DIRECTORATE OF LANDMARK UNIVERSITY FARMS
Vision and Mission of LU Farms
•To improve the standard of living of our contact populace by providing qualitative, quantitative and affordable staple and processed food.
•To make Landmark University community an "Agro-self-sufficient" environment.
Current Goals GOAL EMPHASIS FOR THE YEAR
•Broiler birds' production – 7,000 monthly to 10,500 monthly.
•Expansion on the rearing of Laying Birds – 12,500 to 42,500.
•Establishment of re-circulatory hatchery system for cat fishes.
•Cultivating of Soya Bean crops (from 23 Hectares to 50 Hectares) – additional 27 hectares.
•A trial production of Tilapia fish in running stream.
•Commencement of our Cassava Processing Plant for garri and odourless fufu.
•Provision of large storage facility (silos) to contain all our grains for ease of preservation, quality maintenance, cost benefits in off seasons and identifications of such grains.
The farm was established in year 2010 as a Commercial Farm unit of the University.
The farm currently operates on a 302 hectares with 82.3 hectares cultivated with maize, 50 hectares with soya beans, 10 hectares for variety of vegetables in the year 2016, others include 5 hectares occupied by the fish ponds, while about 30 hectares in divided places contain the poultry pens, 3 hectares for the tractor shed, etc.
Poultry production involves both broiler birds and layers production. A fortnight cycle of minimum 7000 day old broiler chick reared to table size within six weeks is practiced and eggs of average daily production of 270 crates. The farm operates an automated cage system, housing over twelve thousand five hundred (12,500) laying birds.
The farm is also into fish farming in earthen ponds which occupies about 5 hectares, with plans for expansion within the year. The ponds are stocked with over 55,000 pieces of fish, mainly Clarias spp. and about 5000 of Tilapia spps.
The Commercial Farm consists of the following Units:
(a) Animal
•Broiler Unit with a rearing cycle of minimum 7,000 broiler bird in 6 weeks.
•Layers Unit equipped with automated battery cage system of 12,500 birds capacity (but 9,500 are presently reared in the cages).
•Feed mill Unit equipped to 2 Nos Units of feed mill capable of milling 10 tons of feed per day and a pelleting machine (for fish feed) with a capacity of 250 – 350 Kg/hr.
•Fishery Unit operating on 5 Hectare of land with 9 earthen ponds, containing about 41,000 pieces of Clarias spps. The unit is equipped with two Kilns (one operating on charcoal, the other with electricity) having a total capacity of 500 kg for fresh fish.
•Cold Room/Processing Unit equipped with broiler birds processing equipment of 1.5 tons per day capacity, a blast of 6 tons capacity for freezing the chicken and a cold room storage facility of 10 tons capacity for the frozen chicken.
(b) Crop Unit
The area available for cropping is about 191 Hectares, planted with Maize (82.3 Hectares), while about 50 Hectares will be planted with Soybeans for the 2016 planting season).
Eleyin Plantation is one of the farmlands of Landmark University, Omu-Aran. It is situated at Eleyin Village on Omu-Aran – Ilorin highway. It is about 8 km from the main campus of Landmark University. It was established primarily for Jatropha curcas plantation farm – a biofuel plant of great economic importance. Total land area is about 354 hectares with only about 96.5 hectares cultivated in the first year of operation, i.e. 2014.
COMMUNITY ENGAGEMENT: Weekly sales of our farm fresh products to neighboring communities.
Phone no - (234) 816 086 4515
Subscribe to our Newsletter
Get the latest news and updates by signing up to our daily newsletter.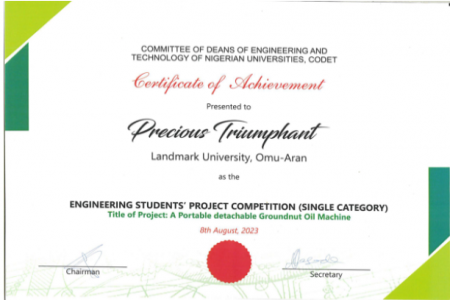 Story of the week
FINAL YEAR STUDENT WINS PRICES AT 2023 CODETS ENGINEERING STUDENTS PROJECT COMPETITION