The Vice-Chancellor – PROFESSOR KOLAWOLE O. AJANAKU



Professor Kolawole O. Ajanaku has been appointed the 6th substantive Vice-Chancellor of Landmark University, Omu-Aran, Kwara State.
The Board of Regents of the University under the Chairmanship of the Chancellor, Dr. David O. Oyedepo, pronounced the Professor of Industrial Chemistry (Materials) as the new Vice-Chancellor effective from 1st September 2023.
Before his appointment, Professor Ajanaku was the Director of Covenant University Centre for Research, Innovation and Discovery (CUCRID) at Covenant University.
Professor Ajanaku attended Ibadan Municipal Government Primary School at NTC Road, Ibadan and had his School Leaving Certificate in the year 1979.
He started his secondary school education at Ijebu-Jesa Grammar School, Ijebu-Jesa in 1980 and later moved to Ibadan Grammar School, Molete in 1982 to complete his Secondary School education in the year 1985 and had his WAEC result from the same school.
He received his B.Sc., M.Sc. and Ph.D degrees in Industrial Chemistry from the University of Ibadan, Ibadan, Nigeria in 1992, 1995 and 2009, respectively having been mentored by Professor F. A. Dawodu of Chemistry Department, University of Ibadan. He had his NYSC primary assignment in Winners' Chapel, Owerri, Imo State as the Personal Assistant to the then Resident Pastor of the Church (Rev. Simeon Afolabi).
He had so much impact in the Owerri Choir then that the Church retained him in Owerri by getting him a Production Manager's job at Unit-One Company in Owerri, which he later resigned after spending four months to continue his Master's programme at the University of Ibadan because of his passion to be in academics.
He has thus far acquired 28 years of teaching and research experience in the University system. He started his academic carrier as Graduate Assistant at Ladoke Akintola University of Technology, LAUTECH, Ogbomoso in the year 1995.
He was very dynamic and active in his duties to the extent that every Head of Department in his Department at LAUTECH, Ogbomoso will always want Ajanaku to be on board of his/her administration.
He moved to Covenant University on 1st of February, 2007 as Lecturer I by divine instruction via Bishop Mike Afolabi, where he continued his active teaching and research endeavour.
Kolawole has been an outstanding lecturer in the field of Chemistry since the beginning of his teaching profession with several awards to confirm this.
He won the Outstanding Lecturer Award for 2008/2009 academic session and also the Exceptional Lecturer award 2010/2011 academic session.
In 2010, he won a total of 700 USD as the Covenant University Chancellor's Award for authors with publications in High Impact Journals. In 2011, Ajanaku won the prestigious TWAS-CSIR postdoctoral fellowship to undertake research in developing a Glass-Ceramic Matrix Composite using Industrial wastes (FR No: 3240255092). He completed the post-doc programme at Central Glass and Ceramics Research Institute, Kolkata, India, under the host Supervisor, Professor S. K. Das in 2013. Oluseyi also won the outstanding HOD award for Best Department in the CST and in Covenant University for 2014/2015 academic session. These two awards fetched him a brand new Tab and a brand new HP laptop. In September 2017, he became a Professional FELLOW, which is an award given by the Chemical Society of Nigeria.
Ajanaku Kolawole has research collaborators in India, Germany, South Africa and Ireland, where most of his postgraduate students visit for their bench work.
He was Head of the Department of Chemistry in Covenant University for three (3) successive times from the 2011 to 2015 academic sessions. He was Dean of the College of Science & Technology from 2017 to 2019 academic sessions.
He just finished serving as a Director of Covenant University Centre for Research, Innovation and Discovery (CUCRID).
He is the first Professor of Industrial Chemistry at Covenant University in August 2015 with a specialisation in Material Chemistry.
He is a member of two (2) research clusters in Covenant University. His research fields cover Waste Management; Food Chemistry; Energy and Materials. He brought on board two (2) MoU signing on waste recycling under his Chairmanship as CU Waste to Wealth initiative in Covenant University.
Professor Ajanaku has attended and chair several conferences both at the local and international platform.
He has supervised several undergraduate students; graduated four (4) MSc. and eight (8) Ph.D students in Covenant University and his three (3) current Ph.D students are at the final stage of their research work.
He has co-authored quite a number of peer-reviewed publications; some of which are published in local and international journals with visibility in Google Scholar, Scopus, and Research Gate. He has close to eighty-five (85) published articles with sixty-two (62) indexed in Scopus (H-index of 14). He has attended several conferences with both local and international paper presentations.
He also made a presentation at the University of Johannesburg Faculty of Science Public Lecture on the topic "Harnessing Collaboration between the University of Johannesburg and Covenant University."
He is also an active reviewer of High Impact Journals such as:
Reviewer for Cereal Chemistry (Scopus);
Reviewer for Current Research in Nutrition and Food Science (Scopus);
Reviewer for Cogent Engineering (Scopus);
Reviewer for Alexandria Engineering Journal (Scopus);
Reviewer for Silicon (Scopus);
Reviewer for Journal of Heterocyclic Chemistry (Wiley);
Reviewer for Journal of Scientific Research & Essay;
Reviewer for African Journal of Agricultural Research;
Reviewer for African Journal of Food Science; and
Editorial Board for Covenant Journal of Physical & Life Sciences.
Kolawole is also engaged with other academic activities such as External Examiner, Chief Examiner/Assessor to Ph.D. students, Professorial Assessor in Universities within Nigeria, India, and South Africa. He is also a member of several professional bodies such as Chemical Society of Nigeria as Fellow; American Chemical Society and Indian Ceramic Society.
Professor Ajanaku was born into a Christian home and he gave his life to Christ at the age of eighteen (18) in August 1986 and received the baptism of the Holy Ghost the same month.
He is a Deacon in the Winner's Church. He was ordained by Bishop Thomas Aremu at Ibadan Church in the year 1997. He has since then been an active member of the Choir serving God by playing musical instruments (keyboard, Drums, Bass & Lead Guitars). He is currently a lead guitarist in the Faith Tabernacle Choir, Canaanland, Ota. He served as Assistant Choirmaster in Ibadan Church for three (3) years and then as Choirmaster for four (4) years. He later moved to Faith Tabernacle Choir here in Canaanland in 2010 and has also served as Assistant Choir Master for two (2) years and a member of the Music Team of the Church.
Ajanaku hobby is traveling, and he always prefers driving himself most of the time he travels with a good listening attitude to good Music.
Professor Ajanaku is married to Dr. Christiana, who is also a Lecturer in Chemistry, and are both blessed with Children.
Subscribe to our Newsletter
Get the latest news and updates by signing up to our daily newsletter.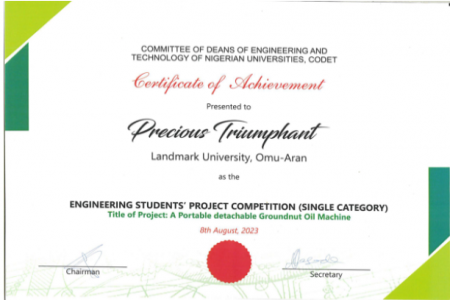 Story of the week
FINAL YEAR STUDENT WINS PRICES AT 2023 CODETS ENGINEERING STUDENTS PROJECT COMPETITION