The Vice-Chancellor – PROFESSOR ADENIYI OLAYANJU
Engr. Professor Adeniyi, Olayanju was born in Ibadan, Oyo State on the 12th of August, 1968. The young Olayanju started his Primary School Education in 1974 at Salvation Army Primary School, Oje – Igosun, Ibadan.
He gained Admission to Ikolaba Grammar School, Agodi G.R.A. Ibadan in 1980. As a pioneer student, he was the Food Prefect and later, the Labour Prefect of the School.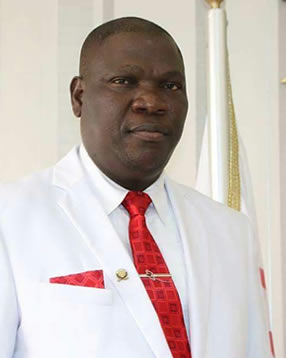 He passed out of the secondary school in 1985 with good grades in WASCE. He went to Jibril Martin Memorial Grammar School, Iponri, Lagos in 1986 for his Lower Basic School and was briefly at Yaba College of Technology, Lagos.
He then proceeded to the University of Ibadan, in 1987. As an undergraduate, he was on the Dean's Honours' list and was the Public Relations Officer and later the President of the Agricultural Engineering Students' Association of the University.
He graduated from the University of Ibadan with B.Sc, M.Sc and Ph.D. in Agricultural Engineering in 1992, 1997 and 2002 respectively. As an undergraduate, he was on the Dean's Honours list and the President of Agricultural Engineering Students' Society. He also got the Nigerian Society of Engineers (NSE) Graduate of the Year Award in 1996 and in 1997 got the NSE Best Graduate Design Award.
He was with Satibor/Nova Technology, Ibadan as Technical Engineer between 1994 and 1996 and at the Federal Institute of Industrial Research, Oshodi (FIIRO) Lagos as Principal Research Engineer between 1997 and 2004. He was engaged in the Project Design and Development of Agricultural and Food Processing Equipment using Computer Aided Design and Drafting (CADD) package.
He joined the services of the Federal University of Agriculture, Abeokuta in June 2004 as a Lecturer 1, re-appointed Senior Lecturer in September, 2005 and Promoted Professor of Agricultural Mechanization in October 2012. He has, since, been involved in the execution of some national and international collaborative projects such as DFID/PrOpCom Rice Project, UNDP/SMEDAN Auto-Spare Parts Project, RMRDC/FIIRO Beniseed Project and IITA/FUNAAB Cassava Weed Project. Some of these have also won awards and financial gains for his University.
Professor Olayanju was the Deputy Dean, College of Engineering, between 2007 and 2009, the Pioneer Dean of Engineering, OYSCATECH, a member of Appointment and Promotion Committee of Academics Staff (APCAS) and the Dean of Student Affairs of FUNAAB until his appointment as the 3rd Substantive Vice – Chancellor of Landmark University.
He is an External Examiner and Assessor to Some Nigerian Universities and Polytechnics. He is a member of the Nigerian Society of Engineers (NSE), the Nigerian Institution of Agricultural Engineers (NIAE), the Nigerian Institute of Food Science and Technology (NIFST), a COREN registered engineer and have over 60 published articles in reputable national and international journals, refereed conference proceedings and technical reports in my area of expertise.
He delivered the 51st Inaugural lecture of the University on the titled: Man, Material and Machine - The Tricycle of Agricultural Mechanization (the soft copy is online and the video coverage of the lecture is on you tube).
Professor Olayanju has attended some local and international conferences as well as short training courses on Vegetable Oil Extraction and Bamboo Utilization in India and China respectively.
Professor Adeniyi Olayanju is an ordained Deacon and a member of Living Faith Church, a.k.a. Winners Chapel, Obantoko, the Chairman, Shiloh 2012/2013 Committee and Pioneer Head of Protocol Unit of the Church.
He is married to Mrs. Tina Olayanju, a Business Administrator and the marriage is blessed with lovely children.
Email: vc@landmarkuniversity.edu.ng
Phone: 07037595882
Subscribe to our Newsletter
Get the latest news and updates by signing up to our daily newsletter.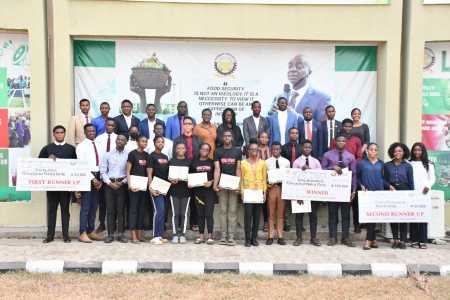 Story of the week
LANDMARK HOLDS INNOVATIVE CHALLENGE TOWARDS