Staff on Campus
The general welfare package for all Faculty and Staff is given utmost attention. The University ensures provision of enabling environment for achieving academic excellence and research breakthroughs by putting in place 24/7 internet access, maximum security, uninterrupted water and power supply, and good infrastructural facilities. In addition to professorial lodge for all eminent professors and top management staff, there are also, 44 Units of 3 bedroom suit apartments and 72 Units of 2 bedroom apartments housing faculty and staff. This housing capacity has been exhausted and effort is being made to ensure that all staff are accommodated in the campus.
Please click here to view the Staff Handbook
Subscribe to our Newsletter
Get the latest news and updates by signing up to our daily newsletter.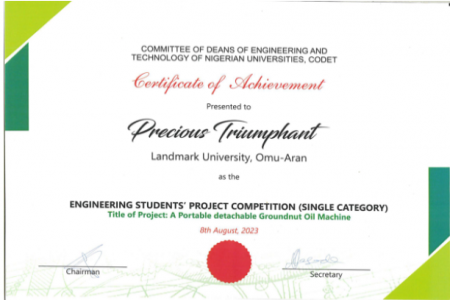 Story of the week
FINAL YEAR STUDENT WINS PRICES AT 2023 CODETS ENGINEERING STUDENTS PROJECT COMPETITION