Our Story
Landmark University is a private University established by the Living Faith Church World Wide, committed to raising leaders who shall be equipped with skills and character to lead the world in meeting the needs of humanity-FOOD.
The focus is to assist the nation and indeed the continent of Africa in self -discovery so that she may recover her leading position in education and in civilization, as it was in the 20th century.
The goal is to set the pace in making the Nigerian nation fully, competitively and profitably engage her comparative advantage in human and agricultural resource potentials and development.
Nigeria is a country endowed with immense natural resources, ranging from a wide expanse of land to varying degree of solid mineral deposits. In the 1960s, Nigeria was a leading exporter of agricultural produce. But with the oil boom of the 1970s, people's interest in land cultivation began to wane which culminated in a massive rural-urban migration. By late 1980s, an erstwhile leading agrarian nation was committing a large percentage of its budget to importation of staple foods. This situation continued to increase till date. Although 70% of her population is still involved in agriculture one way or the other, it is at a subsistent level that cannot measure up to a 10th of her food requirement.
Several attempts have been made by successive government to proffer lasting solution from Green Revolution to Operation Feed the Nation, all to no avail. Thus people perpetually go hungry in the midst of abundance.
The above scenario propelled by vision spurred Dr. David O. Oyedepo, the President of Living Faith Church World Wide, to lead the establishment of Landmark University as a catalyst for Agrarian Revolution. Essentially, it is committed to "raising a new generation of solution providers through the covenant channels of inspiration; an army of young people who will be committed to solving local problems and by extension commanding global influence
The proprietors being faith-based, with credible proofs of capacity, are committed to this project by qualitatively contributing to the development of Nigeria's human resource capacity by making quality education available to qualified citizen of the world irrespective of sex, tribe or nationality.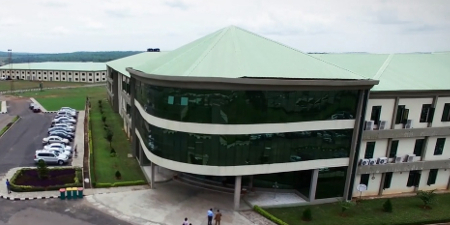 Landmark University was established to make landmark contributions to knowledge in order to secure increased comfort for humanity by "Breaking New Grounds" in teaching, research and community service as she engages the strategy of promoting collaboration between related disciplines as a conventional university.
On March 7, 2011, the University was licensed by National Universities Commission (NUC) to run undergraduate programs in the Colleges of Agricultural Sciences; Sciences and Engineering, Business and Social Sciences. On March 21, 2011, the University was officially dedicated and commenced full operation.
Subscribe to our Newsletter
Get the latest news and updates by signing up to our daily newsletter.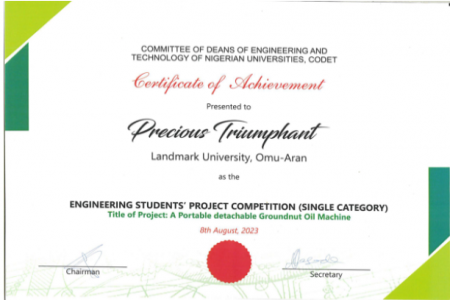 Story of the week
FINAL YEAR STUDENT WINS PRICES AT 2023 CODETS ENGINEERING STUDENTS PROJECT COMPETITION