LMU at a Glance
CORE VALUES
Spirituality
Possibility Mentality
Capacity Building
Integrity
Responsibility
Diligence
Sacrifice
MOTO
"Breaking New Grounds"
LANDMARK UNIVERSITY LOGO

Landmark University @ a Glance
LIBRARY COLLECTION
The Centre for Learning Resources is a world-class magnificent glass edifice with state-of-the-art facilities. It has over 5 million hard copy and electronic books which cut across the various programmes in the University. The Centre also houses hard copy and electronic journal collections provided on several platforms to include but not limited to ScienceDirect and Ebsco. The Library is fully automated with a Webpac accessible anywhere around the globe.
NAMING
The name "Landmark" was inspired from the compelling establishment purpose, which is to advance learning through research by breaking new grounds of knowledge and innovation. Names are significant because individuals and corporate entities answer to their names. They remind not only the bearers but also the corporate operators, leaders and stakeholders of the institutions establishment purpose. From this understanding of purpose, they are able to detect if the University is truly breaking new grounds of knowledge through research or not.
AFFILIATION AND COLLABORATIONS
In its bid to foster its Agrarian Revolution, the University is collaborating with the following institutions around the world:
Nottingham University
British Council
Boras University
This is expected to increase very shortly.
Subscribe to our Newsletter
Get the latest news and updates by signing up to our daily newsletter.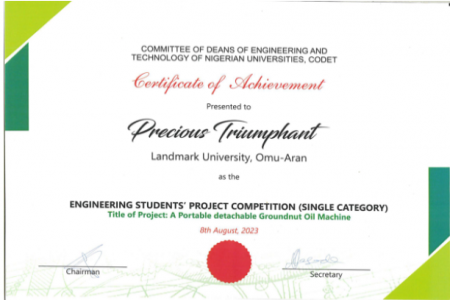 Story of the week
FINAL YEAR STUDENT WINS PRICES AT 2023 CODETS ENGINEERING STUDENTS PROJECT COMPETITION