The Chancellor –Dr. David Oyedepo
Dr David Olaniyi Oyedepo, the Chancellor, Landmark University, Omu-Aran, Kwara State is a world-acclaimed apostle of the Gospel of our Lord Jesus Christ, presiding over the ever increasing David Oyedepo Ministries International (DOMI) which comprises the Living Faith Church Worldwide Inc. (a.k.a. Winner's Chapel), World Mission Agency (WMA), Dominion Publishing House, and the Social Development Missions projects made up of hospitals, maternity homes, schools, etc.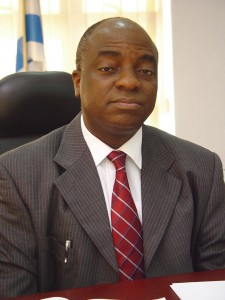 The Living Faith Church Worldwide, with the International headquarters, the Faith Tabernacle, Canaan Land, located in Ota, Nigeria, is renowned to be the largest Church auditorium in the world, having a 50, 000 seat capacity. The Church has its branches in over 300 cities and towns in Nigeria as well as, in several cities in 45 African nations, Dubai, the United Kingdom and the United States.
Dr David Oyedepo is not just a passionate soul winner, committed to the advancement of the Kingdom of God, but also a personality committed to the service of community, country and humanity at large. This commitment is anchored in the Scriptural admonition of social responsibility in Matthew 5: 13&14. His Ministry has established a number of educational institutions because of his great passion for knowledge and research. This visionary pathway undertaken by Dr Oyedepo has brought many people together around a shared sense of purpose under the World Mission Agency Inc. (WMA) to provide quality education at all levels, thereby making significant contributions to the education system in Nigeria for her to occupy a better place in the global education sphere. Today, over 100 educational institutions established by his Ministry across major cities and towns in Nigeria (Word of Faith Bible Institute (WOFBI), Faith Academy, Kingdom Heritage School, Covenant University and Landmark University) operate on Christian principles, paying particular attention to human capacity development in terms of imparting relevant knowledge and skills which will ultimately transform a man and make him lead a life of fulfilment, the result of which will be an ideal and fair society with minimum deviant or criminal behaviour.
As presiding Bishop of the founding base of the University, Living Faith Church Worldwide and Chancellor, Covenant University, established in 2002, is currently pioneering a revolution in education not only in Nigeria but also on the African Continent. Covenant University is the first private University in Nigeria to have the fastest approval of its application for operating license by the National Universities Commission (NUC), and the first in the annals of Nigeria tertiary institution to start full academic and administrative activities at its permanent site at take-off, with all facilities in place, it is also the first University to have all of its 16 programmes presented for accreditation approved by the NUC.
He established Landmark University with the vision to lead an agrarian revolution for the emergence of a new self-sufficient Africa in terms of food security via the education platform. Landmark University is the pioneer private agriculture-based University in Nigeria. His commitment to this vision is evident in the consistent growth of the University since establishment in 2011.
He also established the David Oyedepo Foundation (DOF), a platform that primarily rewards academic excellence across institutions under his visionary leadership. With the aim popularizing agriculture among the youth, exceptional students most especially in the agricultural-related fields in Landmark University enjoy this noble effort.
WOFBI is a reputable leadership training institute, which he founded in 1986 to service the training needs of ministries and to raise men for exploits. The institute, which has branches in about 36 nations of Africa, has trained over 50,000 men and women to date.
Dr Oyedepo has established enduring institutions in a nation where important institutions have decayed, and touched lives in a society, where the masses are in dire need of salvation from ills, succour from poverty and godly guidance from pervasive errors.
As an inspired and acclaimed author and publisher, Dr Oyedepo has written over 70 Christian, inspirational and motivational books apart from periodicals. He is also Chairman/Publisher of Dominion Publishing House (DPH), a publishing arm of his ministry. DPH has over 4 million prints in circulation to date. It won a Gold Merit Award of the Economic Community of West African State (ECOWAS) in 1992.
Dr Oyedepo's dogged commitment to excellence has won him many honours and awards. These include, "The Biographic Centre, Cambridge; "International Who is Who of intellectuals, 13th Edition" of the international Biographical Centre, Cambridge, England; "Man of Dignity" by Global Care International; "Frontline Christian Author" by ECOWAS International Gold Award and "inscribed in the Jerusalem 3000 Scroll #102268, Others include "Doctor of Divinity" by Bethel Graduate School of Technology, Riverside, California, USA; "Fellow, Nigerian Academy of Education" and "Fellow, Institute of Strategic Management, Nigeria".
Dr David Oyedepo is married to Pastor (Mrs) Faith Oyedepo and the marriage is blessed with four godly children.
Dr Oyedepo's hobbies are reading, reasoning, planning and writing.
Subscribe to our Newsletter
Get the latest news and updates by signing up to our daily newsletter.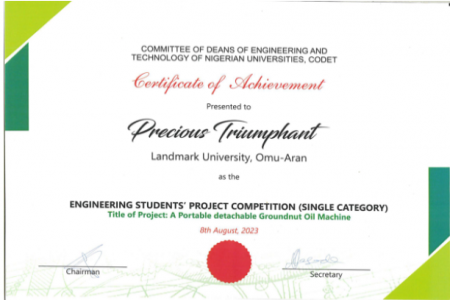 Story of the week
FINAL YEAR STUDENT WINS PRICES AT 2023 CODETS ENGINEERING STUDENTS PROJECT COMPETITION