TITLE OF PUBLICATION: DESIGN AND CONSTRUCTION OF AN AUTOMATIC FISH FEEDER MACHINE

JOURNAL: International Journal of Mechanical Engineering and Technology

VOLUME: 9 ISSUE: 10
AUTHOR: Professor Osueke C. O.

What is it about?

The research focuses on the design and fabrication of an automatic fish feeder machine. It illustrates the automation of the fish feeding process and timing, in aquaculture production using Arduino Uno microcontroller. The machine is programmed to deliver the appropriate ration at the various growth stage of the school thus making the entire process timely and efficient.

Why is it important?

The research is important because of the following:
It removes the drudgery associated with the process.
It improves the efficiency of the process
In the long, the research helps to increase productivity through cost reduction and optimal delivery
It also raises the time efficiency of the farmer enhancing the farmer's potentials as his skills and time can be deployed to other areas.
Perspectives- How have you benefited from the research?
The leap from this research is towards harnessing the nutrient rich water that comes from the fish pond. It involves automating its disposal and channeling it to plant production through a technique called aquaponics.
Abstract?
Fish cultivation has become a worthwhile business activity, as it promotes food security and poverty eradication in developing countries; however, the feeding processes are done manually in Nigeria. Therefore, to solve the problem associated with manual feeding in aquaculture, an automated fish feeder was designed, fabricated and tested that automatically feed the fish at a predetermined time. This eliminates the drudgery associated with manual feeding. The machine was electrically powered and had the capacity to dispense 420g of feed pellets at 90sec. The maximum shaft speed was 250rpm.
Article DOI:
Article URL:
http://www.iaeme.com/ijmet/issues.asp?JType=IJMET&VType=9&IType=10
Article LMU Repository Link:
http://eprints.lmu.edu.ng/1796/
Lead Author Researchgate Link:
https://www.researchgate.net/profile/Prof_Osueke
Lead Author Scopus Link:
https://www.scopus.com/authid/detail.uri?authorId=56269922700&eid=2-s2.0-85058167961
Lead Author Linkedln Link:
Lead Author Facebook Link:
Subscribe to our Newsletter
Get the latest news and updates by signing up to our daily newsletter.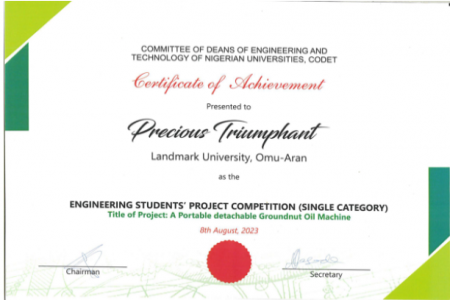 Story of the week
FINAL YEAR STUDENT WINS PRICES AT 2023 CODETS ENGINEERING STUDENTS PROJECT COMPETITION