TITLE OF PUBLICATION: Mechanical Behaviour of Moringa Oleifera Seeds under Compression Loading
JOURNAL: International Journal of Mechanical Engineering and Technology (IJMET)
VOLUME: 9 ISSUE: 11
AUTHORS: Olayanju, T.M.A., Osueke, C., Dahunsi, S.O., Okonkwo, C.E., Adekunle, N.O., Olarenwaju, O.O., Oludare, A.
What is it about?
The publication studies the mechanical properties of Moringa Oleifera seed such as the forces applied to shell dehull and express oil from the seed; the deformation that will be sustained and energy required for the task.
Why is it important?
It is important because of the parameters that were provided which will be used in the design of processing machines for the seed. These includes the seed cleaner, Sheller, dehuller, extractor and the filter press.
What are the new discoveries from the research?
The study has shown me that the behaviour of agric materials are crop specific, it varies from soft to hard seed. The local community will also benefit by having an improved way of processing their products.
ABSTRACT
Mechanical properties of Moringa oleifera of relevance to seed handling were determined. The properties determined were force, deformation, stress and energy at various compression loadings (peak, break, and yield), including the young modulus. The peak value occurs at force of 76N, strain of 41 for undehusked while for dehusked, the peak value for force is 96N and for strain is 64 respectively. The linear relationship at the peak, break and yield point was observed to be y = 0.253x + 48.72; y = -0.004x + 59.68 and y = -0.076x + 25.40 respectively. The result shows that the force correlation was positively weak (0.1842) at peak point and negatively weak (-0.0375 and -0.0918) at break and yield point respectively. The dehusked Moringa seeds possessed a relatively higher average force and stress than the undehusked seed at peak and break point, and otherwise at yield point, the inverse was the case of its energy properties. The young modulus of the undehusked seeds was however greater than the dehusked seeds and the elasticity for dehusked seed was also observed to be higher than undehusked moringa seed. Linear relationships that could be used at various compression loadings were established for both the undehusked and dehusked Moringa seeds.
Article URL: http://www.iaeme.com/ijmet/issues.asp?JType=IJMET&VType=9&IType=11
Article LMU Repository Link: http://eprints.lmu.edu.ng/1805/
Lead Author Scopus Link: https://www.scopus.com/authid/detail.uri?authorId=8223764300
Lead Author Google Scholar Link: https://scholar.google.com/citations hl=en&user=X2MNh2EAAAAJ&view_op=list_works
Lead Author Researchgate Link: https://www.researchgate.net/profile/Olayanju_Tajudeen
Lead Author Linkedln Link: https://www.linkedin.com/in/olayanju-adeniyi-6a8a5888/
Subscribe to our Newsletter
Get the latest news and updates by signing up to our daily newsletter.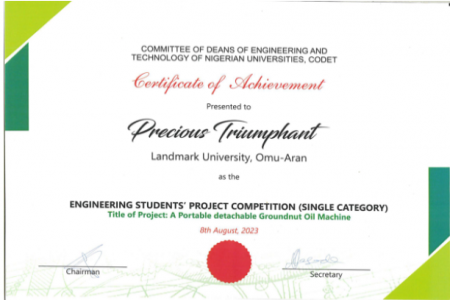 Story of the week
FINAL YEAR STUDENT WINS PRICES AT 2023 CODETS ENGINEERING STUDENTS PROJECT COMPETITION