LANDMARK UNIVERSITY DEVELOPMENT VENTURES
Vision
Creating global solutions through impactful services, thereby fostering an enabling self- sufficient campus.
Mission
We provide innovative business ideas and services to the vision aimed at value creation. Creating an enabling learning environment by providing service per excellence resulting from best practices towards achieving a world class University status. To make available alternative items and services in order to ensure that human needs are satisfied.
Goal
To advance in the provisions of all necessary facilities needed by students and staff to make safe, healthy and better living within the University community.
About Us
Landmark University Development Ventures (LMDV) also known as Directorate of Endowment and Resources Development Service was officially inaugurated in the month of March, 2011 by the Chancellor (Bishop David Oyedepo). It was established to oversee the Business Enterprises of the University community and drive the revolution of these enterprises through the forces of demand, supply, and marketing, innovation, and revenue generation.
Units
The enterprises under the supervision of the directorate leadership at present are as follows;
LMU Cafeteria
University Cafeteria is fast growing with expanding student population and set to meet the food/nutritional needs (continental and domestic dishes) of students, staff, visitors and the entire University community at large. It has a state-of-the-art dining hall for every one and all occasions that include University buffet, dinner etc. the building comprises of 3 dining halls with 500 seating capacity each and 120 seating capacity executive restaurant for the staff and University guest.
LMU Bookshop/Dominion Bookstores
The University Bookshop is stocked with various types of books i.e. academics, motivational, spiritual, as well as complimentary cards and all forms of stationeries. It is positioned to meet the learning, teaching and material needs of students and staff on campus. We have over 200 authors of books on different titles at present.
LMU Shopping Mall
The Shopping Mall is a supermarket centrally located for easy access by visitors, staff and students and it is stocked with a wide range of items including provisions, cosmetics, gift items, home and kitchen utensils at affordable prices.
LMU Guest House
The University Guest House is an ultra-modern facility comparable with 3-star hotels. It is a home away from home and has 50 standard rooms and 4 royal suites for lodgment at its full capacity, with a standard restaurant and 250 seating capacity conference hall. We also provide essential services for the convenience of our esteemed customers. It is affordable and managed by motivated and courteous staff ready to make your comfort a priority.
LMU Business Centre
The Business Centers are located in different parts of the University and are fully equipped with all forms of machines that include photocopier, scanner, laminating machines, computer systems etc. They are meant to satisfy typing, spiral binding, photocopying, and colored and/or black/white printing needs of the University community.
LMU Butteries
The Butteries which are mini markets located at the male and female hall of residence serves as the grass-root neighbor to the students, meeting their demands in terms of provisions and toiletries.
LMU Pastries
The pastry is a section seeing to the production of confectioneries and other pastries items for consumption of student and staff of the University. This section is marked for outstanding services with modern equipment and expertise.
LMU Bakery
The University Bakery is a standard bakery that marked for excellent tasty pastries and bread among others. It is fully equipped with industrial machines that give room to lesser human contacts. It has the capacity to produce 3000 loaves daily. The bakery is known for varieties like Cake bread, Bread roll, Choco mix, Fruity roll, Peanut loaf, Cocoa loaf, Delight loaf and family loaf among others.
LMU Depot
The soft drink depots stock supplies which include Coca-Cola, Pepsi and brands of refreshing drinks. The venture stands in as a major distributor of the products in the University community and also satisfies the interest of the school environs with varieties of drinks.
LMU Boutique
The University boutique stands among the best in terms of available quality wears. It is located close to the shopping mall to ease access by commuters. Both corporate and casual wears including stockings, boxers/knickers/underpants, shirts, blouses, skirts, lady's handbags, body accessories (wrist-watches, ties, bangles, ear-rings, beaded accessories, cuff-links, etc.) and shoes for both sex are sold at low prices. We also have the extension of this unit at both Halls of Residence.
LMU Transport Service
We render bus and cab shuttle services to make the movement of staff, student and visitors easy and comfortable at a highly discounted rate.
LMU Essential service providers
We render essential services such as; hairdressing, barbing, tailoring and cobbler at hall of residence and strategic places on campus for easy access.
LMU Water factory
Landmark table water is fully registered with the Ministry of trade and commerce with the trade mark accepted for production of sachet and bottle water. The primary aim is to make an impact within the University community and beyond by providing a good quality drinking water at low cost.
CONTACT US
Email: lmdv@ lmu.edu.ng
Subscribe to our Newsletter
Get the latest news and updates by signing up to our daily newsletter.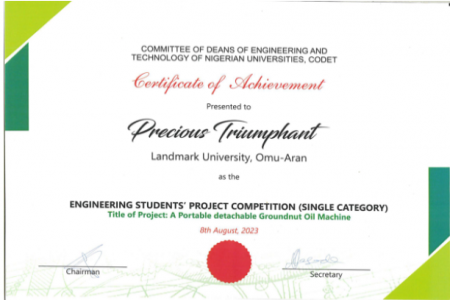 Story of the week
FINAL YEAR STUDENT WINS PRICES AT 2023 CODETS ENGINEERING STUDENTS PROJECT COMPETITION