4th INAUGURAL LECTURE
"ROAD MAP TO CANAAN: PRODUCTION EFFICIENCY AND INTEGRATION IN AGRIBUSINESS"
PROFILE OF PROFESSOR OLASUNKANMI MOSES BAMIRO
Professor Olasunkanmi Moses Bamiro was born in 1963 to Late Mr. Jonathan Oluwole Bamiro and Mrs Aderonke Bamiro (of blessed memory) at Ijebu-Igbo in Ogun State, Nigeria. He attended St. John's African Church School, Ijebu-Igbo between 1968 and 1975. He ought to have completed his education in 1974 but for his parent's inability to pay one naira for the primary school leaving certificate examination fee. He was advised to opt for photography apprenticeship but he vehemently declined. Young Bamiro unfortunately lost his father on 1st August, 1975. This would have led to the end of his ambition to further his education, as family members were not in a good financial position to assist him. With dogged determination, he left for Lagos with his mother's blessings. He started Lagos life as a Tailoring Apprentice at 21, Araromi Street, Somolu, Lagos between February 1976 and September 1977.
The onset of a turning point in the history of his life began when he travelled to his hometown for Christmas celebration. One Mrs. A.O. Okunaiya made a statement that rekindled the burning zeal for education on his inside, "Your mates are in school while you are a tailor apprentice!" This prompted him to implore elders in his family to send him to school, even if they had to sell his own share of his father's inheritance. Unfortunately, he was told that the debt left behind by his father would not allow them to pay his tuition fees even if they had to search for a school that would collect as low as fifteen naira!
When he returned to Lagos and explained his plight to his uncle, under who he was a tailoring apprentice, the uncle in his magnanimity decided to enroll him at a private lesson in Bariga, Lagos. He faced several hurdles before he was able to complete his secondary school education in 1983 in flying colours. When he thought he had reached the apex of academic success with his secondary school certificate, he received the shock of his life at an interview he attended at the Federal Ministry of Industry, Lagos where every member of the panel said, "young man, please go to school". He tried to explain to them how poverty had compelled him to seek employment, but all fell on the deaf ears of the panelists. Though it was a bitter pill for him to swallow then, now he can say they did him a lot of good by turning down his plea.
After all efforts to secure a lucrative job failed, a friend of his, Mr. Ramoni Abimbola introduced him to the then Principal of Beje High School, Ijebu–Igbo, who gladly employed him as a P.T.A. teacher in 1983 on a paltry monthly salary of One hundred and forty eight naira only. While in this school, he taught Physics, Chemistry and Mathematics and prepared the first and second sets of the School for WASCE in 1984 and 1985 respectively. Amongst the students then were Ademola Idowu, now a Medical Doctor and Consultant with Ekiti State University Teaching Hospital, and Tunde Ipaye, also a Medical Doctor and currently the Honourable Commissioner of Health in Ogun State.
Professor Bamiro is an Alumnus of Obafemi Awolowo University, Ile-Ife, University of Ibadan and University of Agriculture, Abeokuta, where he obtained Bachelor of Agriculture (Agricultural Economics), M.Sc. Agricultural Economics and Ph.D. Production Economics respectively. His areas of specialization include Production Economics, Consumer Studies, Livestock Economics and Agribusiness.
He had a stint of his career as a Credit Analyst in finance companies between 1991 and 1993, after which he began a career in academics as an Assistant Lecturer in the Department of Agricultural Economics and Farm Management, Ogun State University, Ago-Iwoye (now known as Olabisi Onabanjo University) in 1995. He rose to the rank of a Senior Lecturer in 2008 and withdrew his service from the University in 2011. He joined the service of Landmark University as a Senior Lecturer in March 2011, after which he was promoted to the ranks of Associate Professor and full Professor in 2012 and 2015 respectively.
This erudite scholar has published extensively in reputable national and international journals and books with about fifty publications to his credit. He has also supervised several undergraduate and postgraduate projects. He has been an external doctoral examiner.
Professor Bamiro is a recipient of several prizes, honors and recognitions among which are: Exclusive Leadership Award by Nigerian Association of Agricultural Students, Olabisi Onabanjo University Chapter; Outstanding Services Award; Most Impactful Lecturer, 2012/2013 Academic Session by Landmark University Student Council; and Most Impactful Lecturer in the College of Agricultural Sciences (CAS) for three consecutive years at the CAS Hooding Events, Landmark University, Omu-Aran.
Since joining Landmark University, he has been privileged to serve in several capacities, notable among which are: Chairman, University Examination Committee, 2012-date; Member, Publication & Conference Committee 2011-date; Member, Students Disciplinary Committee 2012-date; Chairman, Admission Committee 2012-date; Member, Mock Accreditation Committee 2012-2015; Member, Ad-hoc Committee on Equipment Acquisition 2012-2013; Chairman, Farm Practical Year Organization Committee 2012-2014; Ag. Head, Department of Agricultural Economics and Extension 2013-2015 and Head, Department of Agriculture 2015-date.
Professor Olasunkanmi Moses Bamiro is happily married and blessed with wonderful children.
Subscribe to our Newsletter
Get the latest news and updates by signing up to our daily newsletter.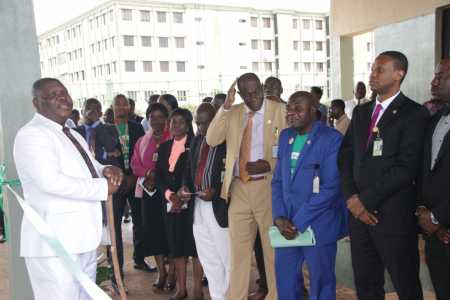 Story of the week
LMU CELEBRATES CHANCELLOR COMMISSIONS LUCAM HYDROPONICS CENTRE AND WEATHER STATION