LANDMARK UNIVERSITY MEDICAL CENTER
Landmark University Medical Centre is a medical Centre sited in an academic environment of the amazing Landmark University, Omu Aran, Kwara State, Nigeria.
We pride ourselves as a Centre of medical excellence where world class healthcare services is made accessible to all at affordable cost to our varieties of highly esteemed patients from different socio-cultural backgrounds and creeds.
We promise to DAZE you with love!
D → Dutiful
A → Accommodating
Z → Zappy
E → Empathic
Landmark University medical Centre is a three tier health service provider rendering primary secondary and tertiary healthcare services. She is equipped with state of the art equipment befitting of a world class University. The Centre renders diagnostic, screening, curative and counseling services in the shade of inpatient and outpatient services. She also runs specialty clinics which include but not limited to; surgery, medical, pediatrics, obstetrics and gynecology, radiology, laboratory services, pharmacy services, blood bank services, etc. The Centre has 17 departments, 88 tenured and visiting staff. The Centre is accredited for primary care and 8 specialist care by NHIS. Accreditation for secondary care are in O & G, Surgeries, Eye care, Dental care, Pharmacy, Laboratory services, Radiology, Internal Medicine. The Hospital is situated at the back of the female hostel. Departments and specialties in the Medical Centre are as follows:
General Surgery

Cardiology

Obstetrics and Gynecology

Dentistry and Maxillofacial Surgery

Ophthalmology

Pediatrics

Radiology and Imaging

Physiotherapy

Public Health

Orthopedics and Sports medicine

ENT

Accident and Emergency Service

Nursing Department

Pharmacy Department

Hematology and Chemical Pathology

Microbiology

Health Information Management Department

Psychiatry

Family Health Department

VCT
Other programs rendered are
Staff Trek: To promote exercise

LUWIP: Landmark University Work Health Initiatives

Annual Medicals and Health Screenings
Vision
To be a leading world class mission university health provider that will provide the best care at an affordable price. Our slogan is "world class health for world class people".
Mission
To promote and preserve the health status and wellbeing of the Landmark University Community and environs through efficient and compassionate delivery of quality health care to staff and students and the community as a whole through constant improvement in the quality of the care and services we provide; educating the community in bringing about total man.
Services Rendered at the Centre
The Centre renders services under five (5) broad categories;
Pharmaceutical Services

Diagnostic services

Curative services

Counseling services

Screening services
Client Base
Our clientele base include
Landmark University Students.

Landmark University Staff.

Landmark University Nursery and Primary School (LUNPS) staff and pupils.

Landmark University Secondary School (LUSS) staff & students.

Kingdom Heritage Model School (KHMS) staff & pupils.

People of Omu-Aran community and environs four (4) states-Kwara, Kogi, Ekiti and Osun State.

Bankers and other workers on retainer-ship or NHIS.

Clients from all over the states of the federation.
Available modes of payment for services include;
Direct payment for services. (Fee for service payment): out of pocket payment

Monthly deduction from staff salaries.

Payment from deposits and end of semester/sessional payment by students

National Health Insurance Scheme (NHIS): Payment from health maintenance organizations, we have enrolled with us; Nigerian prison services, FRSC, NPF, and FGGC.
Collaborations and Linkages
National Blood transfusion Agency: We have a MOU to have a supply of well screened blood from this platform and to organize donors days by our blood donor`s club.

Federal teaching hospital Iddo Ekiti: Most of our visiting specialists are from this hospital. Investigations are also requested from the hospital to our laboratory and radiology units

Ogo Oluwa hospital Bacita: Collaboration on information exchange and honing of surgical skills.

Ecwa Hospital Egbe : Same collaboration as in III above.

GSK: collaboration on vaccination of our female students against Cervical Cancer and recently plan to have our Centre as a place for introduction and Clinical trials on the new Malaria vaccine.

Pfizer health care: Collaboration on cardiovascular health with the cardiology clinic, for clinical studies.

Lean value international: Training on for continuous medical improvement. Through video conferencing from the Netherlands by Dr Louis Brackel. We have had a video seminar so far. He also promised to come over and help link up with an agricultural based university in the Netherlands.

Joint Commission International: The collaboration is for the purpose of accrediting our medical facility, provision of resource to help achieve accreditation and patient safety goals. JCI is an international Medical accreditation body.

Egosi women of substance: Collaborated to have a free health services, eye care and distribution of free reading glasses for the residents of Egosi Ile.

Merck -Serono health: collaboration on identifying and early detection of diabetic neuropathy

Drug free world: We had training materials and videos on campaign against drugs of abuse.

Collaboration with different units of the University on Research example of this is BRALU; Biomedical Research in Landmark University in conjunction with Dr Charles Okoli (Biological Sciences), Research under takings with Dr Abolarin of Biological Sciences, Use of our laboratory for various tests by students and faculties for their research works.

Pharm Access`s Periodic evaluation and technical support: We plan to have quarterly evaluation of our performance by a team of experts from Pharm access, an organization that help in standardizing practice and medical audit

We had our event and outreaches to Irepodun Local Government which was covered by News Agency of Nigeria and pictures of the event came out in two newspapers in two Newspapers. They were Leadership and herald newspapers
Subscribe to our Newsletter
Get the latest news and updates by signing up to our daily newsletter.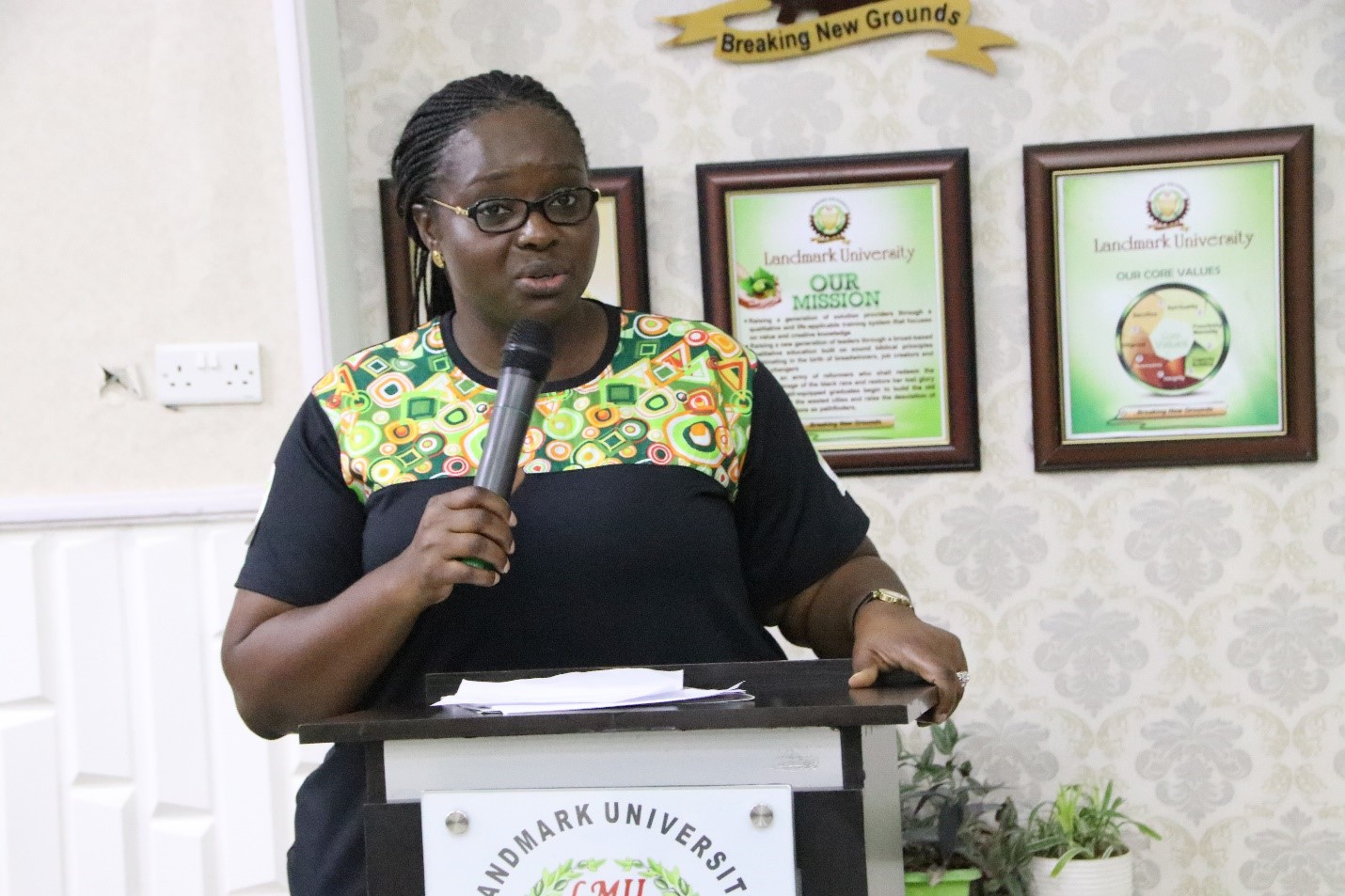 Story of the week
WIFE OF GOVERNOR ADVOCATES FOR MORE KNOWLEDGE TO PREVENT SCOURGE OF CANCER