DEPARTMENT OF BUSINESS STUDIES
Brief about the Department The Department of Business Studies was established in 2010/2011 academic session as a unit under the former School of Business, College of Business and Social Sciences with three programmes in Business Administration, Marketing and Industrial Relations and Human Resource Management.
In 2011/2012 with the establishment of new Departments of the College of Business and Social Sciences (CBS), the department ceased to be a unit of former School of Business and was upgraded to a full University academic department known as the Department of Business Studies and two of the three programmes were merged into B.Sc. Business Administration.
The Department enjoys certain degree of autonomy in its activities and administration, subject to the overall control of the Dean of the College of Business and Social Sciences and the University Senate.
At present the enrolment of student is about 162 students spread between 100-400 levels of regular programme. The Department of Business Studies offers degree leading to the awards of B.Sc. Business Administration.
The department offers Honour degree in Business Administration which is referred to as Bachelor of Science (B.Sc.) Business Administration and it is a four year degree programme.
The B.Sc. (Hons.) Business Administration degree seeks to open to students the complex world of product and services creation and development for the satisfaction of human needs in national and global environments mediated by the social business institution. A thorough appreciation of the dynamics of finding and using resources exists for efficient and sustainable production of outputs desired by the consumer and generality of the stakeholders.
The range of analytical, behavioral, conceptual and technical tools (denoting the science and art of management) introduced to the students helps to sharpen their decision-making capabilities. The degree is designed to foster the readiness of students to acquire and practically utilize their business know-how in private and public sector of the economy. The products of the course will also be better positioned to be self-employed besides being able to cope with professional career pursuits in modern organizations.
VISION
To be the major pillar for the development of enterprise in Landmark University agricultural revolution agenda, fostering the readiness of students to acquire both theory and practical knowledge and utilize them in enterprise and business know-how in the private and public sector.
MISSION

Our mission is to produce world class Business Analysts, agro-based Business Experts and post-graduate researchers in Business Administration, Management and Entrepreneurship, who will be highly responsible and impactful at both private and public sectors across the globe in line with the University core values.
The Business Studies Department has seven regular and two adjunct lecturers. Various courses are taken towards the award of B.Sc (Hons.) Business Administration. Students are able to enjoy close interactions whenever the need arises outside the lecture hours.
OBJECTIVE
The Department is poised to
Prepare graduates equipped with conceptual, analytical and technical decision – making skills that will help them play fundamental and creative roles of business in society.

Raise a flow of graduate capable of contributing to the development of Nigeria, within the general objectives of business and management education in Nigeria, based on their specialized training and within the frame work of programme guideline of National University Commission for the promotion and development of the Department as in all Nigeria Advanced Centre for Training and Research in Business and Enterprise Management.

It functions as one of the nations centre for professional certification in Business Analysis and University apex department and centre for enterprise development, export and strategic management studies and as a major centre for advance research in business system.
ACADEMICS PROGRAMMES
Undergraduates
Business Studies
Marketing
Entrepreneurship
Admission Requirement
Candidate seeking for admission into the four (4) years degree programme of the Department of Business Administration, College of Business and Social Sciences should possess minimum of five (5) level passes in the SSCE/GCE O'level/NECO/NABTEB or its equivalent, obtained in not more than two sittings. The five (5) credit passes must include:The candidate must also sit for current UTME and obtain the prescribed cut off mark in the relevant subjects.

English Language, Mathematics and
one science subject selected from this group: Biology, Chemistry, Physic, Agriculture Science, Health Science, Food and Nutrition
Candidate must additionally have credit level passes in either, Business Methods, Economics, Commerce or Accounting and any other one additional subject.
CONTACT US
Email - hod.bus@lmu.edu.ng
Phone no - (234) 816 086 4515
Subscribe to our Newsletter
Get the latest news and updates by signing up to our daily newsletter.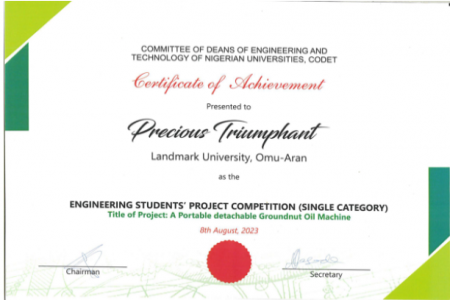 Story of the week
FINAL YEAR STUDENT WINS PRICES AT 2023 CODETS ENGINEERING STUDENTS PROJECT COMPETITION