INAUGURAL LECTURE

"DIVINE SECRETS: THE BOOSTER OF INNOVATIVE DESIGN AND AUTOMATION"
PROFILE OF PROFESSOR CHRISTIAN OKECHUKWU OSUEKE
Engr. Christian Okechukwu Osueke, a Professor of Design, Simulation, Optimization, and Automation, is currently the substantive Head of Department Mechanical and Mechatronics Engineering Landmark University, Omu-Aran, a position he has held for six academic sessions. He has been in the University system for over eighteen years.
Professor Christian Osueke is the second child in a family of five children, he was born in Port-Harcourt to late Engr. (Elder) and Elder (Mrs) Godfrey A. Osueke in the year 1966. He hails from Ihube in Okigwe Local Government Area in Imo State. His passion to study Mechanical Engineering is attributed to his close relationship with his father who studied Mechanical Engineering in Germany and worked in Construction Companies within and outside the country.
Professor Christian's academic career in the mechanical profession started in the Federal University of Technology, Owerri (FUTO) where he obtained his first degree and thereafter proceeded to Enugu State University of Science and Technology, Enugu (ESUT), where he was awarded his second degree also in Mechanical Engineering. He bagged his Ph.D. in Mechanical Engineering from Nnamdi Azikwe University, Awka (UNIZIK), where he specialized in Design, Simulation, and Automation. He was supervised by a renowned Professor of design, Professor E. I. E. Ofodile, while the Ph.D. was reviewed by Professor S. N. Omenyi of Nnamdi Azikwe University, Awka.
Professor Christian Okechukwu Osueke started his lecturing career as an Assistant Lecturer at Enugu State University of Science and Technology on 1st September 1998 and rose through the ranks to become a Professor of Mechanical Engineering in Landmark University in 2015. He has taught courses both at the undergraduate and postgraduate levels most especially courses like Design, Solid Mechanics, Control system, Automation, Robotics, Mechatronics, Engineering Packages, etc. By divine privilege, he has taught students of Mechatronics Department of Afe Babalola University, Ado Ekiti and Mechatronics Department of Federal University, Oye Ekiti.
Prior to being engaged in the University system, Osueke worked with Lake Construction Company that was into design and construction of overhead tanks; drilling of bore holes and installation of submersible pumps; installation of automated control kits; reticulation of water; and maintenance of pumps.
Professor Osueke has served in various capacities within the University community including Dean Student Affairs Landmark University; Chairman, Equipment Acquisition and Usage Committee; Chairman, Internal Accreditation Committee; Chairman, Committee on Proposed Aerospace Engineering Programme; Chairman, Landmark University Secondary School Governing Council. While at Enugu State University of Science and Technology, he served on many committees and was also the Head of Department of Agricultural Engineering as well as the Department of Mechanical Engineering. Furthermore, he has been engaged by Council of the Regulation of Engineering Practice in Nigeria for accreditation exercise to Nigerian Universities.
Osueke is a prolific writer who has published in journals nationally and internationally and has five Engineering text books in his kitty.
On the Church platform, Osueke as a Deacon has served in various capacities: Secretary Deacon's Board; Vice- Chairman, Deacon's Board and Chairman, Deacon's Board; Vice-Chairman, Local Church Council (LCC); Chairman, Financial Management Committee (FMC); Chairman, Project Committee; Head, Children Church; all in the Living Faith Church, District Headquarters Enugu.
He is also a member of FRSC Special Marshal and various Professional bodies relevant to his discipline.
Engr. Professor Christian Okechukwu Osueke is happily married to Ngozi Obiageli Osueke and is blessed with four lovely children: Chiamanda Jane, Chikamso Angel, Okechukwu Godfrey and Chioma Divine.
Subscribe to our Newsletter
Get the latest news and updates by signing up to our daily newsletter.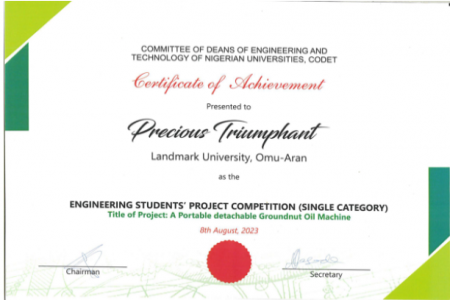 Story of the week
FINAL YEAR STUDENT WINS PRICES AT 2023 CODETS ENGINEERING STUDENTS PROJECT COMPETITION