LANDMARK EXPLORES WIMLEAD CONFERENCE 2021
Ten distinguished women across Landmark University community attended the 2021 Women in Management and Leadership (WIMLEAD) Conference virtually between Wednesday 28 and Thursday 29, 2021. Themed "Leading through Challenging Times", the conference organized by the Nigerian Institute of Management reinforced the importance of building capacity for women leaders.
In her opening address at the conference, the President and Chairman of Council of the Institute, Mrs Patience Ehizogie Anabor, FNIM, who declared the conference open, emphasized the role of women in all areas of human endeavours ranging from the home front to academia, politics, business, corporate world, public and private establishments among others while encouraging them to prepare for the unlimited opportunities that await them in society.
According to Dr Ibilola Amao (Principal Consultant, Lonadek Global Services), who made the lead presentation titled "Leadership: Leading through hard times", building leadership capacity is required to translate vision into reality, noting that leadership is a practical skill encompassing the ability of an individual, group or organization to influence or guide other individuals to achieve something significant. She added that the leadership journey is in stages which include the ability to achieve goals in time (success), getting out of comfort zone (stretch), mentoring role model (support system), discipline/determination/smart work/learning/development (structure).
In the same vein, the second presentation titled "Family Ties: Opportunity or Obstacle for Women in Leadership" and delivered by Dr Maryam Abdu was designed towards helping women balance the demands of workplace and family thereby scaling the huddles of leadership.
The third presentation with the title "Dealing with Workplace Negativity" was delivered by Mrs Deborah David which stimulated participants to develop a strong resistance to a toxic workplace environment.
The conference concluded with the opportunity for participants to share their experiences which further drew comments and answers to challenges they might have in their leadership roles.
Participants from Landmark University were led by the Registrar, Miss Fola Oyinloye. Others included the Dean, SPS, Prof Charity Aremu; Dr Olamide Oyewole; Dr Olayinka Alabi; Dr Adejumoke Inyinbor; Dr Olusola Akanmode; Mrs Christy Ndako; Mrs Kemi Ilesanmi; Mrs Felicia Oluyori; and Mrs Fisayo Olawepo.
In their appreciation to the University management for the privilege to attend the conference, the Registrar noted that the Conference was educative, eye-opening and will enable them to contribute meaningfully towards the realization of world-class University status.
Today @ LMU
Omu-Aran, NGclear sky 20.37oC
See More >>
Subscribe to our Newsletter
Get the latest news and updates by signing up to our daily newsletter.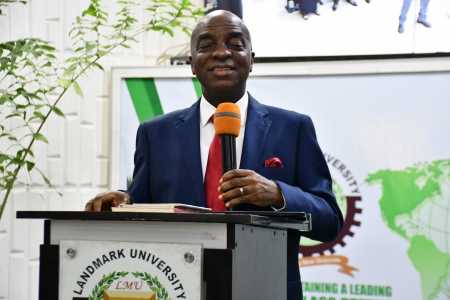 Story of the week
LANDMARK HOLDS 2022 STAFF EXECUTIVE ADVANCE