WIFE OF GOVERNOR ADVOCATES FOR MORE KNOWLEDGE TO PREVENT SCOURGE OF CANCER
The Wife of the Executive Governor of Kwara State, Her Excellency, Deaconess Omolewa Ahmed has advocated for more awareness to prevent the scourge of cancer among citizens of Nigeria, most especially those in Kwara State. She made this plea when she led members of her LEAH Foundation to address the Landmark University community on a Sensitization Exercise on Breast, Cervical and Prostate cancers at the International Conference Centre on Wednesday 21st February, 2018.
Her Excellency said the LEAH Foundation came to be after she lost two women very close to her to cancer. "The women I lost to cancer were educated yet, they were ignorant of cancer and that caused their death. For me, it was a wakeup call to do something about this scourge. Initially, I was discouraged when I considered the cost and time involved to embark on this project. History have shown before now that when people die of cancer they say it is diabolical, so we started the advocacy to educate on prevention, while opening screening centers for early detention."
Deaconess Ahmed stated further that cancer affects everyone in different ways, therefore everyone must be interested in reducing the impacts on our social, health and economic wellbeing. "Our organization has been at the forefront of the campaign for awareness on the deadly scourge of cancer, we set out to reach all the tertiary institutions in Kwara State. This is so because cancer is no respecter of age. Our young adults need to be consciously aware and be well informed early enough."
In his welcome remarks, the Vice-Chancellor, Professor Adeniyi Olayanju stated that the University celebrates the passion and courage of Her Excellency towards driving improvement in the wellbeing of people as evident in Her foundation which shares people-oriented nexus with the overarching vision of the University to spearheading an agrarian revolution on the African continent through the exploration of hidden treasures in the mother-earth thereby restoring the dignity of the black race. "It is a fact that where there are hunger and ill-health, dignity is banished and self-esteemed expelled. For us to regain our right place of prominence and relevance as a people, we are duty bound to address food and health challenges frontally. Hence, Your Excellency, nothing could be more apt, than your choice of LMU for this year's advocacy and sensitization exercise on Breast, Cervical and Prostrate Cancers in commemoration of the world cancer day 2018."
He hinted Her Excellency and the LEAH team on the effort of the University on the activities of the Landmark University Medical Centre when he said: "Our Medical Centre has been very active in celebrating world health related days and organizing enlightenment campaign as well as giving free or subsidized treatment to people on the specific health challenge being observed worldwide such as: diabetes day, cancers day, sight day, malaria day, hepatitis day, heart day, AIDS day, etc."
Professor Olayanju concluded by saying that "the Onus, therefore, lies on us to work in sync to create necessary awareness and combat the ugly trend. We therefore congratulate Her Excellency on this laudable initiative".
Later, the Medical Doctor in LEAH Foundation team, Dr. Opemipo Ogundeniola taught the participants at the programme on "Cancer Awareness, Breast, Cervix and Prostate Cancer Discourse", where he enlightened all on signs, symptoms, prevention, screening and risk factors of cancers. He said the purpose of the exercise was not to scare people but to arm them with knowledge. "My advice is that we should all prevent ourselves early for screening at least once in a year as adults. I urge everyone in this University to maximize the facilities the University Medical Centre has provided as this would help in early detention and prevention".
The Vice-Chancellor, Professor Adeniyi Olayanju giving his welcome remarks at the Programme

Her Excellency, Deaconess Omolewa Ahmed addressing participants at the cancer Awareness Advocacy Programme at the International Conference Centre of t

Dr. Ayoade Shokan, a Medical Practitioner and Member of LEAH Foundation educating participants at the Programme on dangers of cancer

A member of the Leah Foundation Speaking on Cancer Examination

A cross-section of Medical Personnel and Staff of the University at the Programme

A Cross Section of Landmark University Kings and Queens at the Programme

The Vice Chancellor, Prof Adeniyi Olayanju and Her Excvellency, Deaconess Omolewa Ahmed Participating at the Breast Cancer Examination Session.

A Cross Section of Faculty and Staff During Breast Cancer Examination Session
Today @ LMU
Omu-Aran, NGbroken clouds 26.12oC
See More >>
Subscribe to our Newsletter
Get the latest news and updates by signing up to our daily newsletter.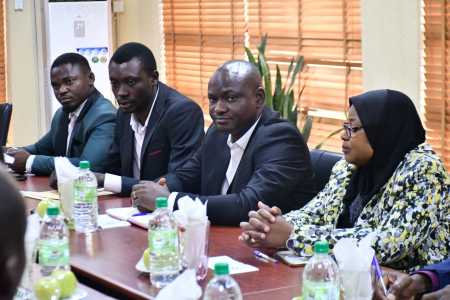 Story of the week
SON KWARA STATE SEEKS COLLABORATION WITH LANDMARK