LMU RECEIVES STUDENTS FOR OMEGA SEMESTER
The Vice-Chancellor, Professor Adeniyi Olayanju has intimated the student body with the Vision for a World-Class status of the University which is geared towards making Landmark University one of the top ten leading world class University come 2028. He made this known while addressing the students at the Opening Assembly for the New Year at the University Multipurpose Hall on 15th and 17th January, 2019.
He expressed his overwhelming joy while welcoming the student back to campus, which he described as an evolving leading world class University and thriving solution inspiring campus in the year of Dominion which he has vowed to appropriate henceforth. Professor Olayanju appreciated God for sparing everyone's lives and bringing all back safely to the University's amazing campus, and also expressed his heart felt gratitude to the Chancellor, Dr. David Olaniyi Oyedepo, for his massive support to the University community as a whole.
"As we have come with a heart of gratitude to God for His marvelous deeds in our lives, what a privilege that we have such a father as the Chancellor, who cares for us at all time, noting his regular inspiring charges we enjoy, stirring us up, in breaking new grounds, in consonance with the vision and mission of the University. As you all know that ours is a unique context, driven by faith and spirituality, we cannot afford inadequacy to fly with the vision and towards the purposeful directions as enunciated by our proprietor base."

He noted with confidence that the University's eye is set on the global height, as it has determine to engage ceaselessly the spirit of continuous improvement in her operations for the envisioned target (Vision for a World-Class status) to be attainable. "It is in this light and might that I welcome you to the campus filled with great opportunities to excel and impact the world. Beginning is no doubt vital and focus is indeed crucial to any good race. I challenge you in accordance to the scripture to press on toward the goal for the prize of the upward call of God in Christ Jesus (Philippians 3:14), even in the pursuit of your academic excellence in this semester."
Professor Olayanju assured the students' of the total commitment of the University in sustaining a conducive environment for your academic, moral and spiritual growth and development, as he advised that all they needed to do is to judiciously engage the facilities and maximize the learning opportunities offered by the University for your attainment of their desired improved performance. He however warned that, it is important for the students to stay clear of anything that could threaten their studentship and mortgage their glorious future. "As a Management, we are untiring in our 'in loco parentis' quest to inculcate knowledge and instill discipline in you, as our golden rules for grooming you to responsibility, productivity and nobility remain sacrosanct. It is under this atmosphere that we are certain that you will be able to think global and start local in proffering the solution the world is expecting. I therefore welcome you and hand you over to the teaching and inspiration of the Holy Spirit for high level ingenuity and excellent academic performance in this Omega semester. While reminding you of Our Anchor Scripture (Numbers 10:29b), I welcome you back to our amazing campus and also wish you a happy and prosperous new year 2019."
Today @ LMU
Omu-Aran, NGclear sky 18.84oC
See More >>
Subscribe to our Newsletter
Get the latest news and updates by signing up to our daily newsletter.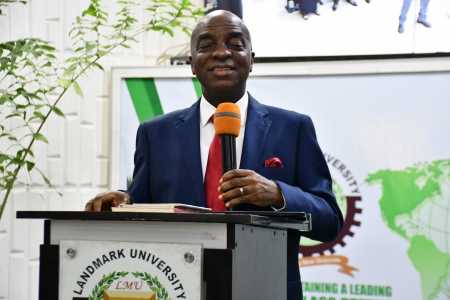 Story of the week
LANDMARK HOLDS 2022 STAFF EXECUTIVE ADVANCE