CHANCELLOR CHARGES ON VALUES AND VIRTUES OF SPIRITUALITY
The Chancellor, Landmark University, Dr. David Oyedepo on Saturday 17th October 2020, charged the students on the values and virtues of spirituality as he welcomed Kings and Queens back to campus from the Covid-19 lockdown break. The Chancellor, who expressed delight to see the students back to campus safe and sound, unfolded the benefits of a determined walk with God, noting that man in his original estate was a product of the spirit world going by the creation of the first man and woman in the Bible. He said, "There was no biological process responsible for a first man or first woman. They were creation of God and God is a spirit. So, they were born of the spirit, they were spiritual product."
He explained further that, "Among other things, we saw how intelligent Adam was. After God created all the animals, he brought them to Adam to find what he will name them. And whatever name Adam gave to those animals that was the name which they were called. Man was operating at God's own intelligence frequency".
Dr. Oyedepo, thereafter, noted that among the benefits of spirituality is high intelligent quotient. Buttressing his point, he cited the exploits of the four Hebrew – Daniel, Shadrach, Meshach and Abednego in the scripture. "God gave these four wisdom and understanding in all skills so when they were tested, they were ten times better than their colleagues. Their deep root in spirituality impacted massively on their intellect. We have this further proven when they were challenged, they were people sold out to quality walk with God," the Chancellor expatiated.
Further, the Chancellor reiterated that spirituality does not make dummies; it, as a matter of fact, empowers believers to dominate their environment, endeavors and circumstances. He added that, "It's a major plus for God giving you an opportunity to be at Landmark University where spirituality is our number one core value to bring bearing to your life, to give meaning to your life, to give you a place in space." While admonishing the students that his early encounter with Christ as a teenager is worthy of emulation, the Chancellor noted that, "The cheapest way forward in life is to identify with those who have been there and if you are interested, you take steps after them." He urged them to walk away from anyone who might negatively influence them against the will of God, as he encouraged them to live righteously for their glorious destinies to open up.
Addressing the graduating students, Dr. Oyedepo shared with them that the only secret to having a fulfilled and successful future is walking with God and maintaining the spiritual journey starting from now. He said further that people are so apprehensive, life is so uncertain to them, but the closer they are to God, the more real the future becomes.
Concluding his admonition, the Chancellor advised them to shun examination malpractices and any other vices that can jeopardize their glorious future. He added that there is no human effort or skill that compares to the values and virtues of spirituality, emphasizing that Godliness is profitable unto all things.
Earlier, the Vice-Chancellor, Professor Adeniyi Olayanju had described the meeting as an impartation service for the students, noting that in spite of the Chancellor's busy schedule, he had created the time to come and pronounce blessings on the students. He, therefore, urged them to maximize every moment of the impartation session.
The Chancellor, Dr. David Oyedepo while charging the students at the Chapel

The Vice-Chancellor, Professor Adeniyi Olayanju while welcoming the students

The Chancellor, Dr. David Oyedepo praising God at the Chapel, with him are the Vice-Chancellor, Professor Adeniyi Olayanju (2nd Left) and the Registra

A cross-section of students paying rapt attention and jotting while the Chancellor Dr. David Oyedepo was speaking

The Vice-Chancellor, Professor Adeniyi Olayanju (Middle), the Registrar, Miss Fola Oyinloye (immediate right of VC), the Chaplain, Pastor Tope Johnson
Today @ LMU
Omu-Aran, NGclear sky 19.71oC
See More >>
Subscribe to our Newsletter
Get the latest news and updates by signing up to our daily newsletter.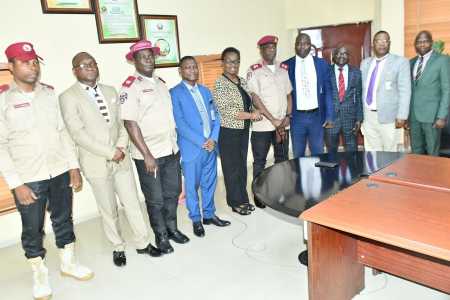 Story of the week
LANDMARK UNIVERSITY RECEIVES NEW FRSC KWARA SECTOR COMMANDER