NEW ACADEMIC SESSION STUDENT WELCOME ASSEMBLY
On Tuesday, 24th September 2019, the Vice-Chancellor, Professor Adeniyi Olayanju has reiterated the University's unwavering commitment to excellence at the 2019/2020 Academic Session Student Welcome Assembly for 100 and 200 levels, saying it is sacrosanct in its journey towards world-class status.
"Excellence is not only our maxim but our goal tenaciously pursued to reality. Spirituality is our guiding principle. This underpins our success story that may have attracted you to our amazing community of new ground breakers.
"It is, therefore, important to stress that the University will not compromise her zero tolerance for any misconduct, as any student guilty of any act of indiscipline will face the consequences," he stated.
Speaking to the fresh students, the Vice-Chancellor emphasised the relevance of good beginning to their academic success while assuring them of the positive impact Landmark provides for them as students. He congratulated them for being in the right place at the right time of their lives because Landmark is poised to raising a generation of leaders, solution providers and an army of reformers. He noted that the vision-based University with a spirit-filled ambience is where they will study with the help of God in readiness to impact their world in turn.
Moreover, he enthused the returning students to embrace good conduct that will enable them have the best campus experience in the new academic session.
"You will all be as wise as following the directives of the Holy Spirit and the golden rules on campus meant to refine you into enviable leaders and great reformers the world is waiting for and be wise enough to accord this session the seriousness it deserves right from the beginning," he concluded.
Earlier, the Registrar, Miss Fola Oyinloye, had counselled the students to be focused on their academics, saying that everyone's outcome is as a result of his or her choice. She implored them to be open to learn because Landmark is for their character reformation and spiritual development. She assured them that the door of the Directorate of Student Affairs is always open to listen to them as they are partners in progress.
In his sermon titled, "Understanding the Requirements of Success, the Chaplain, Pastor Tope Johnson emphasised that there is a price for success which requires anyone desiring it to pay in advance and in full. He, therefore, charged the students to be determined to pay this price through unwavering dedication and due diligence.
In related development, the fresh students had their orientation programme on Monday, 23rd September 2019 with a view to exposing them to the University culture. The students were excited to be welcomed to the University with an array of activities from both the student council and the management of the University.
Today @ LMU
Omu-Aran, NGclear sky 20.37oC
See More >>
Subscribe to our Newsletter
Get the latest news and updates by signing up to our daily newsletter.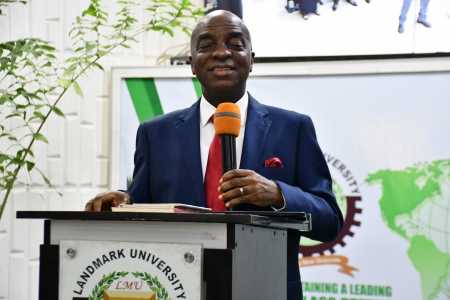 Story of the week
LANDMARK HOLDS 2022 STAFF EXECUTIVE ADVANCE