WASTE TO WEALTH
Landmark University has flagged off a Waste to Wealth Initiative (WWI) as part of her drive to create a sustainable greener environment and generate revenues from environmental wastes, thus reducing the pressure and consumption of waste products. As a pilot programme, the initiative is expected to cover used papers from the University which are in abundant, the modus are to, source, collect, screen, transport and recycle .
The Vice-Chancellor, Professor Adeniyi Olayanju at the launch of the project at the Senate Building charged members of the University community to support 'Waste to Wealth Initiative' of the University. He made this known while launching some tons of papers recycled into tissue papers.
Professor Olayanju noted that the vision of the University of being a leading world class institution through exploration of hidden treasures in the mother earth is on course as these treasures are always around us. He reiterated that the productive connectivity of the four Colleges within the University could be a force to be reckoned with in the University's quest towards continuous exploration of these hidden treasures. He noted that the negative effect of burning waste papers that was recycled into tissue papers has been taking care of, by preventing further depletion of the ozone layer and opined that the initiative will help in developing waste reduction, reuse prospects for the University community and above all, contribute positively to the heralding of the Greener Campus, which is the initiative of the United Nation's Green Earth Project.
Going down memory lane on how the idea was conceived, the Director, Financial Services, Mr. Fadoju Oludare briefed members of management that he was baffled by large volume of waste papers that abound and he remembered a project that was initiated by Covenant University sometimes ago on recycling waste to create a better sustainable environment, as he believed Landmark University could be a beneficiary. This made him to instruct the Admission Officer, to collate used admission fliers for recycling through partnership with Covenant University so as to save the University some cost and if effectively explored could be a source of revenue generation to the University.
At the end of the launch of the Waste to Wealth Initiative, the members of Management met with a team from Access Bank who are on ground for a business transaction and urged them to be part of the project as financiers. In his response, the Regional Manager of Access Bank, Mr. Idris Adekunle Rufai thanked the Management for the warm reception and promised to communicate the request of the University to the Management of Access Bank, as his organization is keenly looking forward to working closely with the University due to long standing relationship.
Today @ LMU
Omu-Aran, NGlight rain 30.15oC
See More >>
Subscribe to our Newsletter
Get the latest news and updates by signing up to our daily newsletter.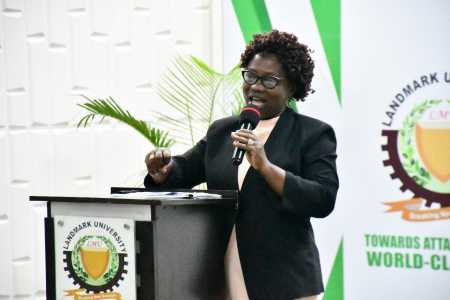 Story of the week
ACTING VC UNVEILS URGENT ACTION PLANS TOWARDS VISION REALIZATION