VICE-CHANCELLOR WELCOMES DR. AYO SHOYOMBO FROM AUSTRALIA
On Monday, 14th March, 2016, the Vice-Chancellor, Professor Aize Obayan, on behalf of Management of Landmark University, welcomed Dr. Ayo Shoyomboto the University after the successful completion of his six-week training in Australia on the cutting-edge reproductive technologies in animals. Dr.Shoyombo, a Faculty in the Department of Animal Science inundated the Vice-Chancellor in her Office with the depth and prospects of the exposure and experience he had gained in the course of the training at the Australia Reproductive Laboratory, where he was the only African in the team of the animal scientists privileged to acquire top-notch animal reproductive technological skills that needed to boost the agricultural profile of Nigeria in particular and Africa in general. This breath-taking engagement coupled with its attendant opportunity to collaborate with the Australian Reproductive Technologies,got the Vice-Chancellor excited.She appreciated the Chancellor of Landmark University, Dr David Oyedepo, for his huge investmentinto driving the University's agrarian vision that gave Dr Shoyombo and lots of other faculty a platform for insightful interactions with their professional colleagues across the globe via conference, workshop and training attendance sponsored by the University. She congratulated Dr Shoyombo on his successful outing and charged him to bring to bear the trendy technologies acquired on the operations and productivity of the University Farms.
In an exclusive interview with our correspondent, Dr.Shoyombo gives an account of his experiences in Australia
CAN WE HAVE A BACKGROUND KNOWLEGDE OF YOUR TRIP TO AUSTRALIA?
Basically right from our undergraduate days, we have heard so much about assisted reproductive technologies, and we were made to understand that this technology would not be feasible in Africa due to the slow pace of the development in the continent. However, some of us are very optimistic, believing that we can make it happen in our generation. Thank God for the core values of Landmark University, particularly the possibility mentality core value, which inspired me to dream big and take commensurate responsibility towards making it a reality. I began to look out for places where I can best be trained on the latest reproductive technologies in animals. I exploredthe countries that are into assisted reproductive technologies which include Australia, Canada, United State and India. I choseAustralia because it has a similar climatic condition with Nigeria. If you look at the map of the world, Australia is in the tropic of Capricorn and Nigeria is also a tropical country which implies that whatever works in Australia will work in Nigeria. In fact, the experiences gained arereally life-transforming.
CAN YOU SHARE WITH US SOME OF YOUR EXPERIENCES?
The country is reputable for two things:great technologies and great genetics. Australia prides herself in Artificial Insemination (AI), Multiple Ovulation Embryo Transfer (MOET), Invitro fertilization (IVF) and Cloning. Artificial Insemination (AI) is an assisted reproductive technology that is most practised in Nigeria; you only see it in Universities or research institutes. For example, we didAI in the Landmark University Farm before I travelled to Australia. It has about over fifty per cent success rate.Some of our cattle are heavily pregnant now, but apart from that even in Africa, multiple ovulation and embryo transfer has not been practised. Well, some schools teach the theoretical basis, for example, some Universities in South Africa and Kenya, but it has not been demonstrated practically. The Invitro fertilization has hardly been practised anywhere in Africa, same is cloning which is the latest and advanced level of technology now.
WHAT CAN LANDMARK UNIVERSITY AND NIGERIA AS A WHOLE BENEFIT FROM YOUR TRIP?
Our animals in Nigeria are the ones with low genetics, or inferior genetics.It is heart-warming to note that with these technologies,we can actually improve on the genetics of our indigenous animals to measure up with animals in the developed countries that are known to have superior genetic value.This is attainable through MOET, IVF and possibly Cloning. Landmark University is proud to have a representation at the Australia Reproductive Laboratory through which Nigeria could access the required skills for enhancing animal reproductive profile and agricultural value chain in the nation.
Today @ LMU
Omu-Aran, NGclear sky 19.71oC
See More >>
Subscribe to our Newsletter
Get the latest news and updates by signing up to our daily newsletter.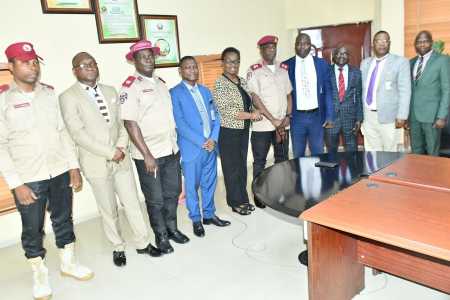 Story of the week
LANDMARK UNIVERSITY RECEIVES NEW FRSC KWARA SECTOR COMMANDER