VICE-CHANCELLOR ON STRATEGIC VISIT TO THE COLLEGE OF BUSINESS AND SOCIAL SCIENCES
On Wednesday, 25th November 2015, the University Management led by Professor Aize Obayan touched base with Faculty and Staff in the College of Business and Social Sciences in the ongoing Academic and Strategic visit to Colleges and Departments in the University.
The Dean of the College, Dr. Tony Nwanji welcomed the Management team and gave historical and academic overview of the College. He took pride in the pedigree of the Faculty and Staff of the College that produced the first best graduating student in the University. He pledged total loyalty on behalf of the College to the Management.
At the interactive session, there were ventilation of ideas, presentation of requests, clarification of issues and harvest of suggestions geared towards actualizing the overarching vision of the University. The Registrar, Dr. Daniel Rotimi responded to some questions asked by members of the College and reiterated the Management's uncompromising position in driving excellence.
The Vice-Chancellor commended the quality of the leadership of the College saying, "The business of running a University must be intentional and this College is so relevant in actualizing the vision of the University because of its quality of leadership". She appreciated the efforts of all members of the College and enjoined them to be part of the 'University's Agripreneurship' to be spearheaded by the College. She called for the cooperation of all members in order to make a solid base for the University.
Giving a vote of thanks on behalf of the College, Professor Gabriel Atoyebi eulogized the Vice-Chancellor saying, "The VC, ma, you are indeed a leader and not a ruler. Things have changed since you came to this University. We thank you for this visit which is strategic, well organized, academic and decent". He further pledged the support of the College to the Management always.
Other highlights of the visit were the inspection of offices, class rooms and other facilities for teaching and research in the College. A cake was also presented to the Members of Management by the Political Science and International Relations Department. The President, Political Science and International Relations (LUPSIRSA), Mr. Ogundele Oluwaseun also made a presentation to the Management on behalf of the Association.
Today @ LMU
Omu-Aran, NGbroken clouds 26.12oC
See More >>
Subscribe to our Newsletter
Get the latest news and updates by signing up to our daily newsletter.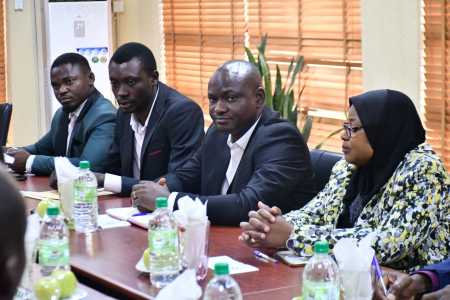 Story of the week
SON KWARA STATE SEEKS COLLABORATION WITH LANDMARK