LMU VC CALLS FOR DELIBERATE PURSUIT OF ACADEMIC EXCELLENCE AT TAIDOB
The Vice-Chancellor and the "Chief Marketing Officer" of Landmark University, Professor Adeniyi Olayanju has emphasized the need to deliberately pursue academic excellence towards self-reliance and self-sufficiency. He made this call while speaking at the TAIDOB's 20th Graduation ceremony in Abeokuta on Tuesday, 17th July 2018.
As the Chairman of the occasion, the Vice-Chancellor stated that "Excellence is a quality of being outstanding; it is not a trait, hence it cannot be inherited. It comes with a price, only those who understand its worth can pay for it." Delivering the speech titled, "TRANSISTING FROM COLLEGE TO HIGHER INSTITUTION: THE QUEST FOR ACADEMIC EXCELLENCE," the Vice-Chancellor stimulated the graduands further that the reward of hard work is more work. He said that more than what they have done to complete a phase in their lives, greater work is required to successfully surmount future challenges that lie ahead of them in the pursuit of higher education. Professor Olayanju, therefore, highlighted the demands for a rewarding pursuit of academic excellence which included amongst others putting God first, prioritizing their primary assignment in school, setting a target to drive their passion, maintaining a high-level of discipline, staying focused on the goal, managing of time, and keeping the right company.
He said that Landmark University since inception occupies a significant position in the global education space to help her students achieve not only academic excellence but also all-round success through a specialized and holistic education system devoted to the spiritual, academic, moral, economic, and social development of the students, guaranteeing a life-transforming experience. "It is incumbent on well-meaning parents to send your wards to University like ours where cost-effective leadership training is guaranteed along with cutting-edge research engagement and Christian ethos. Our integrity is in line to give our parents a value for their investment on their wards," he added.
The Presentation of the Professor Abayomi Oluwaseun Jiboku Foundation (AOJF) was made by the Director of Academics, Mr Obawumi Jiboku. Dignitaries at the graduation ceremony include the Distinguished Guest of Honour, Mrs. Modupe Mujota (the Honourable Commissioner, Ministry of Education, Science and Technology, Ogun State), the Guest Speaker, Barr. Segun Odubela, SAN, (Former Honourable Commissioner, Ministry of Education, Science and Technology, Ogun State), the Special Guest of Honour, Mrs. Olubunmi Awodipe, (Area Manager, Diamond Bank Plc, Ogun State) and the Royal Father of the Day, HRM, Oba (Engr.) Isiaka Olajide Ajede, (Ogirimadagbo Ilodo, Ijebu Mushin) among others.
Today @ LMU
Omu-Aran, NGclear sky 18.84oC
See More >>
Subscribe to our Newsletter
Get the latest news and updates by signing up to our daily newsletter.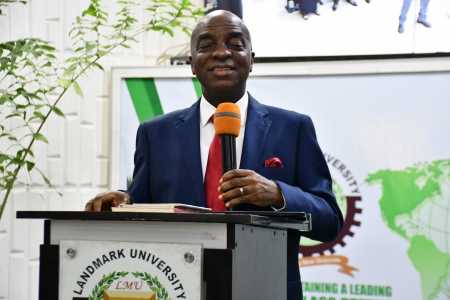 Story of the week
LANDMARK HOLDS 2022 STAFF EXECUTIVE ADVANCE