DIRECTORATE OF UNIVERSITY WIDE COURSES HOLDS 2ND WEBINAR
"New Normal and Work Ethics in a Formal Organization: the Role of Technology Innovations" was the topic of discourse at the 2nd webinar series organized by the Landmark University Directorate of University-Wide Courses (UWC) on Wednesday 23rd June 2021.
The Guest Speaker, Professor Mrs Adenike Osofisan noted in her presentation that the new normal for organizations is Volatility, Uncertainty, Complexity and Ambiguity (VUCA). According to her, the emergence of Covid-19 has changed the world making it insecure and vulnerable. Therefore, to maintain work ethics in a world-class organization that operates in a VUCA environment, the organization must be flexible and ready to promote innovations that create work-balanced life for its employees.
Professor Osofisan added further that to create work-life integration in the new normal, individual must synergize career, family, community and personal wellbeing. Organizations, on the other hand, could introduce productivity trackers, telework, collaboration tools, online customer service and many others to encourage flexible work ethics in the new normal. "Technology empowers people to work wherever they choose and structuring their working hours around life commitments, or for when they are most productive. There are several digital solutions that can help your workforce stay connected wherever they might be working. Necessary equipment such as laptops, mobile phones, video calling, files sharing sites, and instant messaging can help employee work smarter on a flexible arrangement," she further stated.
Citing computer innovation technology as a case study of the discourse, the Guest Speaker revealed the impacts of innovation on family, home, work, finance, communication, education, development and entertainment while observing social distancing. In conclusion, Professor Osofisan admitted that technological innovation enables world-class organizations to maintain their core values and goals by ensuring a Work-Life Integration environment for its employees to have a balanced living that promotes working efficiently and effectively.
The Guest Speaker, Professor Adenike Osofisan was the first female professor of computer science in Nigeria, an erudite scholar and researcher who has over the years taught and mentored young scholars in and outside her field of study.
In his welcome remarks, the Vice-Chancellor, Professor Adeniyi Olayanju charged all participants to be the change they desired to see in their organization while noting that no organization thrives without the people on the go. "This is the common ground that we all have to contribute our quotas towards moving our organization/institution to the desired world-class status. Organizations bring up new strategies and technologies in alignment with the new expectations of the workforce," he added further.
The Vice-Chancellor quoted Buckminster Fuller that "You never change things by fighting the existing reality. To change something, build a new model that makes the existing model obsolete." He, thereafter, expressed his appreciation to the Guest Speaker, Professor Mrs Adenike Osofisan for being a mentor to younger scholars especially the women folks. Professor Olayanju who joined the webinar virtually and physically noted that he did that to show the world the possibility of blending the new normal through technology innovation in organizations such as Landmark University. Professor Olayanju made it known that Landmark University attained its global status in publication through the exploration of technology innovation before, during and after the Covid-19 lockdown.
Speaking earlier, the Registrar, Miss Fola Oyinloye in her welcome remarks stated that for an organization to perform optimally, individual should be ready to adapt when change comes. "There is a concept of agility which is the concept that looks at our ability to adapt to change when it comes and how quickly we can do that whenever it comes". She noted that since the world of work changed due to Covid-19, technology became the driver of the change, and to stay effective and efficient at the workplace, an individual must take responsibility to adapt to such changes.
The Director, University-Wide Courses, Dr Adedoyin Lawal stated in his word of welcome that the UWC 2nd webinar series was organized to address the current demands of the work ethics in the new normal era through technology innovations. He then appreciated the Management for encouraging Landmark Faculty and Staff to build capacity relevant for this era.
Today @ LMU
Omu-Aran, NGclear sky 18.84oC
See More >>
Subscribe to our Newsletter
Get the latest news and updates by signing up to our daily newsletter.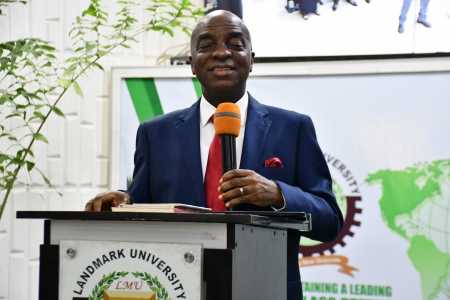 Story of the week
LANDMARK HOLDS 2022 STAFF EXECUTIVE ADVANCE