UNITED NATIONS ADDRESSES LANDMARK ON FOOD SECURITY
Monday 2nd August, 2021 will remain one of the notable days in the annals of Landmark University as two United Nations envoys addressed the nation's food security challenge through Landmark's SDGs platform. The event, which came up under the University webinar series, the 11th edition, was organized by the International Office of Linkages and Grant Management in collaboration with Solution17 and the United Nations Information Centre (UNIC).
In his opening remarks and presentation, the Vice-Chancellor, Professor Adeniyi Olayanju took the participants through Landmark's SDGs research endeavors in a paper titled "Towards a Sustainable Agrarian Revolution: An Assessment of Landmark UN-SDGs Involvement". Professor Olayanju stated that Landmark is focusing primarily on the areas of education, combating poverty, hunger and unemployment, thereby engaging youths towards the realization of the SDGs. The Vice-Chancellor thereafter appreciated the United Nation's emissaries, Ms Foluke Michael, CEO Solution 17 Green and Mr. Roland Kayanja Director, the United Nations Information Centre (UNIC) for identifying with the University thereby facilitating such a purposeful webinar.
Earlier, the Registrar, Miss Fola Oyinloye while giving her welcome address eulogized the Vice-Chancellor, Professor Adeniyi Olayanju for his passionate drive and commitment to the realization of the 17 SDGs through vibrant research endeavors in the last two years, demonstrating that agricultural revolution and SDGs are not mantra to be chanted but the tasks to be accomplished. Miss Oyinloye stated further that the focus of the webinar which is SDG 2 (Zero Hunger) is in line with Landmark's Vision, which she thereafter urged individual to key into, "if we will all take up the practice of agriculture one form or the other whether domestically or commercially, we would have fulfilled the agrarian vision of Landmark and attain the zero hunger quest of SDG 2", she emphasized.
In her presentation titled "Championing Landmark University as the Nation's Food Basket: The Making Solution 17 for Zero Hunger", the CEO Solution17, Ms Foluke Michael identified hunger, poverty, unemployment, economic downturn and climate change as some of the challenges the nation urgently need solution to. Ms Foluke stated that her focus, which are zero hunger and climate change adaptation would be addressed by smart agriculture and climate change, which she believed Landmark has started working on, a justification for choosing Landmark to synergize with her outfit. Ms Foluke added that in order to move swiftly from food insecurity to a food sufficient nation, a short term plans (food availability, food accessibility and food affordability), middle term plans (industrialization and employment) and long term plan (Wealth creation and massive economy growth) engagements must be admitted.
In the third presentation, Mr. Roland David Kayanja the Director, United Nations Information Centre (UNIC), stated that "Every forward looking organization must move from the book of lamentation to the book of Acts" and according to him, from his interaction with Landmark University, he discovered the institution has already moved to the "Acts of the Apostles". "There is a great hope for Africa and the hope is resting on Landmark University", he added, Mr. Karanja said that Nigeria cannot move to production income focus without a skill that considers labour force. According to him, the skill is towards developing a labour force that will address productivity and sustainability, which is the role being played by Landmark University. In his submission, Mr. Karanja stated that for Nigeria to become a food smart nation, there must be reduction in food insecurity, reduce food looses and ensure maximum productivity, proffer solutions to the challenges of high cost of agro chemical, poor access to improved seeds, land requisition challenges, climate change and post-harvest waste while adequate infrastructure is put in place to enhance smart farm practice.
Today @ LMU
Omu-Aran, NGclear sky 18.84oC
See More >>
Subscribe to our Newsletter
Get the latest news and updates by signing up to our daily newsletter.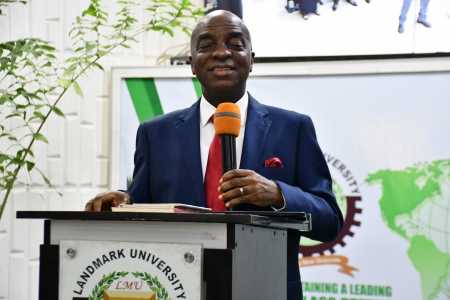 Story of the week
LANDMARK HOLDS 2022 STAFF EXECUTIVE ADVANCE