LANDMARK INAUGURATES TIMTEC AND OSBAM COMMITTEES
As part of the effort to promote the core values of responsibility and sacrifice among faculty and staff of the University thereby improving their productivity and efficiency within the system, the Landmark University Management inaugurated new members of the Timetable and Examination Committee (TIMTEC) and the Operation Subscription By All Means Committee (OSBAM) on Tuesday, 9th February 2020. They are to steer the ships of students' academic activities and student subscription respectively.
At the inauguration, the Vice-Chancellor, Professor Adeniyi Olayanju, was full of appreciation for such strategic committees, noting their significant contributions to the system since his appointment as Vice-Chancellor in 2017 to date. He reiterated the relevance of committees with efficient and committed members to the overall success of any organization and that Landmark is not an exemption. He, therefore, enthused members of the committees to sustainably improve their accomplishments and shun compromise in the discharge of their responsibilities towards fostering a robust academic system. While noting that every move of God is to move the people forward, he called for members' unalloyed commitment to their assignments both primary and secondary.
Earlier speaking, the Registrar, Miss Fola Oyinloye had noted that bringing new members onboard was Management's effort at rejigging committees for improved productivity. Presenting the committees to the Vice-Chancellor, the Registrar said that the two committees had always been made up of committed men and women of a great sense of responsibility and sacrifice. She, therefore, appreciated outgoing members of the committees while welcoming the new ones into the committees. Some of their terms of reference according to the Registrar were to ensure harmonious lecture and examination timetable with follow up and to identify a series of aggressive marketing strategies to propagate the uniqueness of Landmark University respectively.
Led by their respective Chairpersons, Dr Abiola Asaleye (TIMTEC) and Dr Adedoyin Lawal (OSBAM), the newly inaugurated committees, expressed readiness to serve on the committees with all sense of commitment to uphold the tenets and reputation of the University.
Today @ LMU
Omu-Aran, NGovercast clouds 31.85oC
See More >>
Subscribe to our Newsletter
Get the latest news and updates by signing up to our daily newsletter.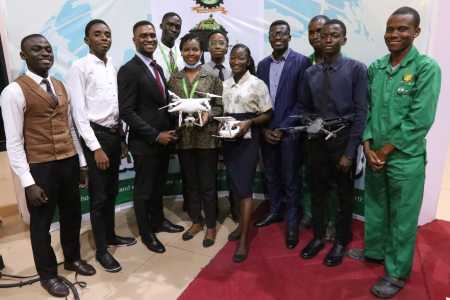 Story of the week
LANDMARK MENTORS YOUNG FARMERS