"Think Contribution," Chancellor Charged Graduands at the 4th Convocation
The Chancellor and Chairman Board of Regents, Landmark University, Dr David Oyedepo charged graduands to think contributions towards national development in their future endeavors at the 4th Convocation Ceremony of the University on 14th of July, 2017.

In his speech titled, "Think Contribution", he reiterated the University's emphasis on the release of quality graduates who are not only intellectually equipped for academic successes and accolades but also endowed with relevant skills for agripreneurship exploits.

The Chancellor while decrying the level of unemployment in Nigeria and its effects on the nation's wellbeing, challenged the graduands to be creative and think of productively improving the nation's economy through the life-applicable training they have received all through their 4-5 years of sojourn in the University.

"If you don't want to die in frustrations, think contributions! If you want to make real marks in your journey in life, think contribution! You will never be remembered for what you have, you will only be remembered for what you add, think contribution! Living for survival makes you a slave, live for others. Only those who live for others become leaders, think contribution!" He enthused.

Making reference to the University's programme of certificate and diploma in Agripreneurship which was conferred on the graduands in addition to their various degrees, the Chancellor reaffirmed the significant role of agriculture in salvaging the nation's economy from the throes of hopelessness.
"No matter the development and the heights anyone might have scaled, food will remain ever relevant.
No matter how highly sophisticated a laboratory is, no single tablet produced from there however effective can heal hunger. Food will remain relevant as long as life remains," he noted that agriculture is the one sector of the economy that is not saturated, therefore the University's programme was designed in line with the University's mission to raise job creators. He added that: "The cheapest way to be a job creator is to engage in agripreneurship. Get involved in what will make you relevant in life. An agripreneur can never be a liability or burden, but an asset to his country."
In the same vein, the Chancellor charged the graduands and the general public to explore the unlimited opportunities in agriculture by leveraging on the agripreneurship training of the University. He added that everyone must embrace agriculture as a career rather than searching for jobs that are no longer there.

"This initiative is our modest contributions of encouraging Nigerians to take part in agricultural revolution. Interestingly, we do not need so much to start. You can begin a small garden in your home or at your backyard and from there begin to expand. We must all be a part in addressing food insecurity in Nigeria and Africa," he concluded.
The Chancellor and Chairman Board of Regents, Dr David Oyedepo charging on "Think Contribution" at the 4th Convocation Ceremony, the Release of Pathfinder Class of 2017, the Noble Set.
Today @ LMU
Omu-Aran, NGclear sky 20.53oC
See More >>
Subscribe to our Newsletter
Get the latest news and updates by signing up to our daily newsletter.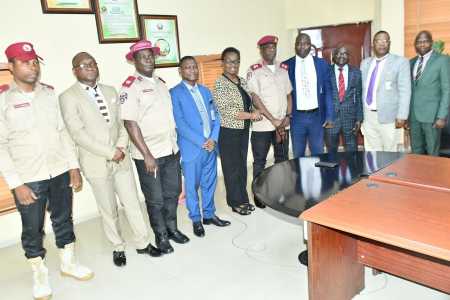 Story of the week
LANDMARK UNIVERSITY RECEIVES NEW FRSC KWARA SECTOR COMMANDER