LANDMARK RANKS WORLD CLASS
Landmark University has been ranked among world-class institutions globally by Times Higher Education (THE) in recognition of its commitment and contributions to the United Nations' 17 Sustainable Development Goals (17 SDGs) which are designed to address the most urgent and critical global challenges. According to the report on THE Global Universities' progress towards the SDGs which was released on April 27, 2022, Landmark University which made its maiden appearance in the 4th edition of the rankings was ranked 2nd under the second group amongst the over 1600 higher education institutions assessed from 106 countries of the world. This has positioned the University as Nigeria's second -best private University and Nigeria's overall fifth-best University.
As Nigeria's first and only private agricultural-based University, Landmark was assessed on its long-standing accomplishments in four categories which included No Poverty (SDG 1), Zero Hunger (SDG 2), Quality Education (SDG 4), and Partnership for the Goals (SDG 17) in fulfilment of its commitment to ensuring food security on the continent of Africa.
While congratulating the University community on the giant stride towards vision actualization, the Ag. Vice-Chancellor, Professor Charity Aremu noted that the much anticipated high ranking of the University on the THE platform is a validation of God's good hand over the institution. "It is the Lord's doing and it is marvellous in our eyes. We, therefore, return all the glory to God who is the Founder and Funder of Landmark University," she added. She appreciated the Proprietor base ably led by the Chancellor and Chairman of the Board of Regents, Dr David Oyedepo for his unwavering commitment towards the realization of the University's overarching vision of becoming a world-class institution demonstrated through the rich investment in facilities for quality education delivery not only in Landmark University but also across the education arm of the Commission. She also appreciated Pastor Mrs Faith Oyedepo, the Vice-President (Education) and Pro-Chancellor, Landmark University as well as the Board of Regents for their oversight role in ensuring the wellbeing of the University. In addition, Professor Aremu appreciated Management, faculty, staff and students for their commitment and contributions to the SDGs from their various platforms which culminated in the great achievement that the University is now celebrating. She, therefore, called for more support of all in the pursuit of the vision in order to soar higher in the future.
Today @ LMU
Omu-Aran, NGovercast clouds 21.75oC
See More >>
Subscribe to our Newsletter
Get the latest news and updates by signing up to our daily newsletter.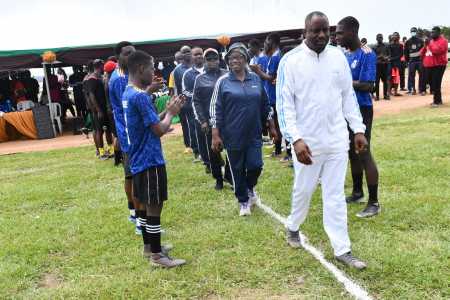 Story of the week
2022 CHANCELLORS CUP KICKS OFF