LANDMARK INAUGURATES TIMES HIGHER EDUCATION RANKING WORKING GROUP
Preparatory to make a significant appearance in the 2022 Times Higher Education (THE) World Universities and Impact Rankings, Management of Landmark University on Tuesday 7th September 2021, inaugurated a 13-man working group. The Times Higher Education (THE) ranking is the platform that creates university rankings to assess university performance on the global stage covering the three main areas of university activity which are teaching. Research and impact. In view of this, the working group, under the Chairmanship of the Director, Landmark University Centre for Research, Innovations and Discoveries (LUCRID), Professor Babatunde Adebesin, is saddled with the responsibilities of synchronization and presentation of the University's corpus of activities for the 2022 rankings.
Inaugurating the group, the Vice-Chancellor, Professor Adeniyi Olayanju stated that the assignment takes intentional collation of data and putting same on the right platform while also adding that each member of the team was drawn from directorates and units with a direct bearing to the process. "Everyone here should see it as our father's work with a stakeholder's approach to the assignment", the VC added while expressing optimism that if well-coordinated, Landmark would not just appear in the ranking but highly ranked.
Also speaking, the Registrar, Miss Fola Oyinloye appreciated the Vice-Chancellor for his passion towards the University's ranking as she also expressed delight over the inauguration of the group. Starting with the quote, "The winning efforts begin with preparation", Miss Oyinloye stated that if the University will be ranked up, we must set our goals right, know the steps to take and make it in good time. She added that individuals must know how to work efficiently and get there in good time so that the goal is achieved in good time. "Let's put our all into this assignment so that when the success comes at the end, we will all be glad we did our best", she advised.
The Director, Financial Services, Mr Christopher Fatiregun urged the group members to work as a team, documenting ideas, working together and not despising any innovation coming from any platform.
In his acceptance speech, the Chairman of the Time Higher Education (THE) ranking working group, Professor B. O. Adebesin appreciated the Management for choosing them for such an enormous assignment. Professor Adebesin, who noted that the ranking is what the University has been waiting for, promised not to disappoint the Management, Landmark University and the nation as a whole.
Today @ LMU
Omu-Aran, NGclear sky 19.74oC
See More >>
Subscribe to our Newsletter
Get the latest news and updates by signing up to our daily newsletter.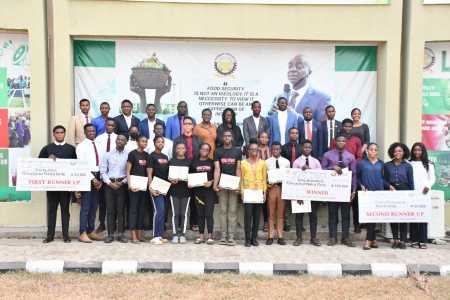 Story of the week
LANDMARK HOLDS INNOVATIVE CHALLENGE TOWARDS