LANDMARK TAKES DELIVERY OF FACILITIES FOR TETFUND SPONSORED FUNAAB COLLABORATIVE GUINEA FOWL DEVELOPMENT PROJECT
Landmark University, on Wednesday 9th September 2020, has again set a milestone in her collaboration with the Federal University of Agriculture, Abeokuta (FUNAAB) as Management of Landmark University led by the Vice-Chancellor, Professor Adeniyi Olayanju took delivery of facilities as a collaborator on the Tetfund-sponsored project titled "Genetic Improvement of Guinea Fowl for High Meat and Egg Production in Nigeria". The Federal University of Agriculture, Abeokuta being the domicile of the grant, delivered a 1056 capacity egg incubator, 3 KVA generator and a candler to the University to facilitate the research. According to Dr Matthew Wheto, representing the Principal Investigator, FUNAAB, Professor Tumininu Adebambo, the facilities become the property of Landmark University after the completion of the project.
Receiving the items, the Vice-Chancellor, Professor Adeniyi Olayanju, expressed joy over the high-impact results emanating from the relationship between the two Universities in line with their common vision of agricultural development. Like the TETFUND Guinea fowl project grant, Professor Olayanju noted that Landmark has also collaborated with FUNAAB in the recently concluded CAVA II project under the Cordination of Professor Kola Adebayo with an unprecedented cassava yield milestone in the Landmark University context. While assuring FUNAAB of Landmark's unwavering commitment to this new project considering the passion and dedication of the Landmark's co-Principal Investigator, Dr Ayo Shoyombo and the team members, Professor Olayanju appreciated the Vice-Chancellor, FUNAAB, Professor Kolawole Salako for facilitating a robust collaboration between the two Universities towards advancing the frontiers of agricultural development in Nigeria.
Further expressing assurance of a remarkable collaboration between the Universities, the Registrar, Landmark University, Miss Fola Oyinloye, in her welcome address earlier, had noted that the collaboration will set the pace for another level of research in animal production considering the unlimited usefulness of the facilities as there is no doubt that Landmark will put the facilities to good use.
Today @ LMU
Omu-Aran, NGclear sky 20.37oC
See More >>
Subscribe to our Newsletter
Get the latest news and updates by signing up to our daily newsletter.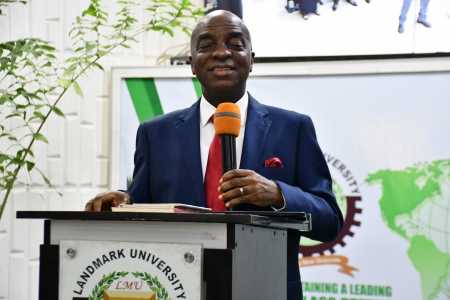 Story of the week
LANDMARK HOLDS 2022 STAFF EXECUTIVE ADVANCE