LANDMARK WEBINAR SERIES 3 TECHNOTURITY IS NOT OPTIONAL SAYS VC
The Vice-Chancellor, Landmark University, Professor Adeniyi Olayanju has emphasised that Technoturity which has to do with creating a balance between use of technologies and their accompanying software for optimum productivity and rewarding experience. He stated that this is no longer optional in a world that is increasingly going digital but essential to maximise organisational and personal resources. Speaking at the University's 3rd Webinar series titled "Technoturity: Social Media, Time Management and Organizational Productivity", organised by her Centre for Learning Resources, Thursday 16th July 2020, Professor Olayanju noted that, as good as the idea of digital space especially the social media might appear, there has been the challenge of creating a balance on the time spent using the technologies at home and at work, thereby having enormous adverse effect on quality delivery and productivity of workplaces.

Although management of people for excellent organisational productivity could be herculean, Professor Olayanju said that the wheel of productivity and success of any organisation is driven by the people, hence a positive orientation and digital discipline must be upheld by every individual and organisation. Concluding his welcome address, Professor Olayanju expressed optimism that the webinar will further put in perspective for the enlightenment of the participants the nitty gritty of digital literacy and essence of building a digital workplace for increased productivity.
In her remarks earlier, the Registrar of Landmark, Miss Fola Oyinloye, noted that social media has come to stay and become more increasingly instrumental in our world today regardless of the attendant vices which if properly managed, would immensely benefit individuals and organisations. She, therefore, advised every individual and organization to make judicious and responsible use of social media.
Presentations at the webinar gave crucial insights into social media usage and time management for overall personal and organisational productivity. The first presenter, Dr (Mrs) Felicia Yusuf, former Director Landmark University Centre for Learning Resources and current faculty at the Covenant University Centre for Learning Resources, whose presentation centred on "Balancing Social Media Use and Employee's Productivity," stated that the importance of social media to an organization and individuals is enormous, but advised users against its abuse. She identified the need for organisations to embrace the new reality by meeting up with the demands of ICT in the world of works, noting that the new generation of employees are ICT savvy. Therefore, to avoid abuse of social media by employees, Dr Yusuf suggested policies guidelines on social media use which she noted might have positive and negative effects on the organization. In her submission, "A comprehensive and comprehensible policy dictating ideal expectations on social media use at the workplace is required. Constant orientation and education of staff on time management, social media use and productivity are needed to ingrain the policy," she opined.
Dr Ayo Alonge, in his presentation titled "Social Media and Organizational Branding," asserted that organizational branding thrives on personal branding of the employee, hence reiterating the importance of self-branding and development to the benefit of an organization. Concurring with the first presenter on usefulness of social media to individuals and organization in the present era, Dr Alonge, a Faculty in the Department of Library and Archival Studies, University of Ibadan, cited the dominance of some popular brands that have over the years explored branding to etch themselves on the mind of society thereby building very strong reputation.
Dr. Alonge noted further that creating a strong niche for an organization through effective social media usage has an irrepressible impact on the brand of such individual and organization. Branding according to him uniquely distinguishes one individual or organization from another while identifying clarity, coherent and commitment as the 3Cs of branding that could be adopted. He encouraged participants to update their social media accounts, seeing such accounts as branding tools and engaging them with their future aspiration in view.
Also lending her voice on the discourse was Dr Yemisi Babalola of Babcock University who titled her presentation, "Social Media Use and Control in an Organization". She elucidated on the uses of social media in an organization, the advantages, disadvantages and measures of controlling the uses of social media by employers. While emphasising the limitations of technical control of social media use including blockage of social network and electronic performance monitoring among others, Dr Babalola advised organizations on the adoption of non-technical measures which included a well-publicized social media use policy, management by objectives, as well as periodic training on time management.
Highlight of the webinar was the feedback from the participants. The convener and moderator of the webinar, Mr Sola Owolabi of the Landmark Centre for Learning Resources was appreciated for his ingenuity. One of the crucial comments was a recommendation for the inclusion of digital literacy in the school curriculum, covering all levels of education. By so doing, digital competence and maturity will be imparted into the prospective workforce that will maximise digital potentials.
Giving the vote of thanks, the Director, Landmark Centre for Learning Resources, Dr Agaptus Nwozor appreciated the Management for the support towards a successful outing. He also appreciated the facilitators and the participants for their inspiring partnership, expressing confidence that the presentations have succeeded in redirecting their perspectives towards building productive employees and employers in this digital age.
Today @ LMU
Omu-Aran, NGclear sky 18.84oC
See More >>
Subscribe to our Newsletter
Get the latest news and updates by signing up to our daily newsletter.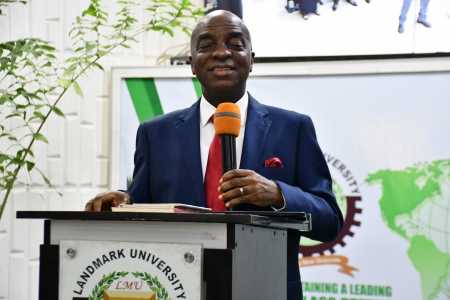 Story of the week
LANDMARK HOLDS 2022 STAFF EXECUTIVE ADVANCE