VC TASKS LANDMARK DEVELOPMENT VENTURES TO STRENGTHEN OPERATIONAL BASE
The Vice-Chancellor, Professor Adeniyi Olayanju has tasked the Landmark University Development Ventures (LMDV) to increase and sustain the Internally Generated Revenue (IGR) of the Institution. He made this call on Tuesday 5th June, 2018 during a day training programme held for all managers and supervisors of the ventures to strengthen their capacity base for operational efficiency, as they finalize towards having a successful outing come next academic session.
While thanking the leadership of LMDV ably led by the Special Assistant to the Chancellor on IGR (SAC), Dr. (Mrs.) Rachael Adebayo for upholding the Capacity Building core value of Landmark University, Professor Olayanju charged participants at the training to be effective managers of the resources committed to them. "A manager must know how to plan, implement, motivate, direct and control people because you have a target that you are aiming at. Remember God does not reward effort made but result obtained. Getting result should be the focus of any manager or supervisor but you must plan if you must obtain result." He further enjoined the participants to see their positions as honour bestowed on them by God, as others are looking onto them for quality leadership. "You must have a grip on people working with you but I beg you to do it in love because that is the only way you can obtain desired results. LMDV is an IGR base for the University and you must drive this with a passion because to whom much is given, much is also expected." While warning that the Management of the University would not condone any act of financial mismanagement, the Vice-Chancellor enjoined them to be scrupulous in all their operations.
Dr. (Mrs.) Adebayo responded on behalf of LMDV. She appreciated the Vice-Chancellor for leading other members of Management to be part of the Capacity Building Programme. She noted that the training was put in place to develop and strengthen the skills, instincts and abilities of LMDV staff at managerial level which will have effect on their operational base. She said the training would provide all managers and supervisors the processes and resources that the institution needs to survive, adapt and thrive in a fast-changing business world.
LMDV also known as Directorate of Endowment and Resources Development Service was established to oversee the Business Enterprises of the University community and drive enterprises through the forces of demand, supply, marketing, innovation, and revenue generation. Its operations covers Cafeteria, Bookshop/Dominion Bookstores, Shopping Mall, Guest House, Business Centres, Butteries, Pastries, Bakery, Depot, Boutique, Transport Service, Essential service providers (hairdressing barbing, tailoring cobbler) and Water factory.
The diverse topics covered and their resources persons included Leadership Skills and Corporate Etiquette for Excellent Services and Productivity by Dr. James Ndako; The Art of Doing Business: Generating and Communicating Business Ideas, Social Intelligence, Customer Relationship and Salesmanship by Dr. Adewara Sunday; and Leadership in Customer Service Delivery by Mr. Olaibi Noah.
Subscribe to our Newsletter
Get the latest news and updates by signing up to our daily newsletter.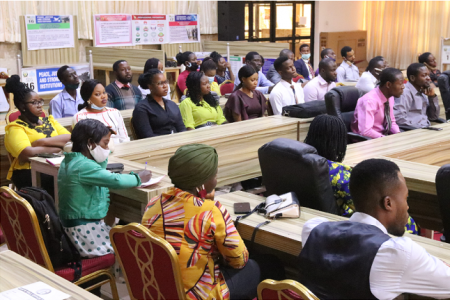 Story of the week
SCHOOL OF POSTGRADUATE STUDIES WELCOMES FRESHMEN