LEARN TO BUILD COMPETENCIES
On Monday, 7th December 2020, the Vice-Chancellor, Engr. Professor Adeniyi Olayanju declared open the Students Work Experience Programme (SWEP) for the 200 level students of the College of Engineering, Landmark University, charging them to be conscious of building competencies through the programme being their initial exposure to field works as potential engineers.
While noting that competencies are built on four major components which include knowledge, skills, experience and attitude, the Vice-Chancellor described the SWEP as an avenue to acquire skills and also gain experience. He said that SWEP offers a platform to 'Learn to build competencies, especially as engineering students who will become engineering graduates and later engineers. You cannot afford not to build competencies. With the huge benefits in view, the Vice-Chancellor said it becomes obligatory that the University organized this year's edition despite the delay arising from COVID-19 lockdown. He, therefore, saluted the Dean of the College, Engr. Professor Christian Osueke, for his passion and tenacity to hold the SWEP.
In her remarks, the Registrar, Miss Fola Oyinloye, encouraged the students to make the most of the programme, noting that their attitude to the programme would have great implication on the validation of the certificates obtained for the programme in the nearest future.
While situating this year's SWEP, the Dean of the College, Engr. Professor Osueke, said that it would be a week-long programme through which the students would undergo Project Management courses and hands-on training in partnership with the University's Directorate of Physical Planning and Development. He recounted the impact of the SWEP in the University since its inception in 2012, saying that the College started with community service in the campus and the host community, Omu-Aran. He said the students engaged in cleaning of the environment and drainages as well as filling of potholes on the major road. In 2018, the students also developed a fish drying kiln towards the advancement of the agrarian vision of the University. He added that since last year, the College has incorporated into SWEP training on Project Management culminating in a building project which the University has put to good use. With this great impact in mind, he said it would be a great disservice to the students to have missed the experience. While cautioning the students against all forms of distractions and negligence during the programme, the Dean appreciated Management for their support in making the 2020 SWEP a reality.
Today @ LMU
Omu-Aran, NGclear sky 20.37oC
See More >>
Subscribe to our Newsletter
Get the latest news and updates by signing up to our daily newsletter.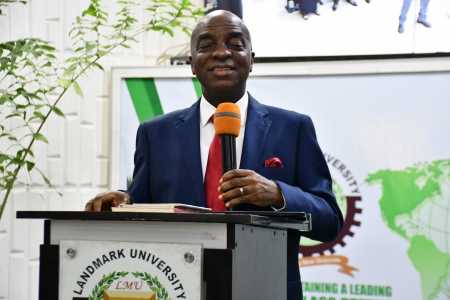 Story of the week
LANDMARK HOLDS 2022 STAFF EXECUTIVE ADVANCE