IT TAKES ENGINEERING TO EXPLORE THE HIDDEN TREASURES FROM THE MOTHER EARTH
It was indeed an elated gathering for Management, Faculty, Staff and Students of the College of Engineering, Landmark University, as they converged at the University Lecture Theater II for the opening ceremony of the 2019 Student Work Experience Programme (SWEP) for all 200-level students of the College. The Vice-Chancellor, Professor Adeniyi Olayanju expressed his delight seeing the students resumed for the 2019 SWEP, as he described the programme as a transition from 200 level to 300 level which takes them beyond the practical and workshop experience to real work experience. In his address captioned, "No Engineering, No National Development", Professor Olayanju noted that no one can dispute the impact of engineering as virtually almost everything around is being impacted by engineering profession. He reiterated the role of engineering in the actualization of the daunting vision of Landmark, through the exploration of the hidden treasures in the mother earth. "In every human society, opportunity abounds for us as Engineers as there are challenges to be addressed on a daily basis,
Professor Olayanju implored the students to take advantage of the opportunity SWEP would offer to improve their learning experience via practical orientation. He further espoused that "Engineers apply scientific knowledge gathered from teaching and experience to solve human challenges, SWEP is that working experience to improve yourselves as engineering students. I can assure you that the University technologists are ready to share the experience they have gathered over the years with you, so please humble yourself to get the best from them."
The Registrar, Dr James Ndako reeled out the royal laws of the University that the students must abide by, most especially in terms of conduct during SWEP. Also, admonishing the students on the need to maintain discipline and decorum if they must make most of the SWEP, the Director, Financial Services, Mr. Oludare Fadoju stated that the students must ensure they abide strictly by rules guiding the programme, as it would be a prototype for their work experience later in life.The Dean, College of Engineering, Professor Christian Osueke who appreciated the Management, Staff and Faculty for attending the programme reeled out the activities students are to undergo in the two months programme. According to him, "expected projected to be executed are concrete shed, extension construction and electrification, design and fabrication of cassava peeling machine, concrete mixer and block mold, development of a hammer mill, production of paint and automotive grease.
Special Appearances at the event were Mr Van Bazaal from the Netherlands, Mr Adewoye, the Farm manager of Covenant University and ACP Nelson from the Living Faith Church Platform.
Today @ LMU
Omu-Aran, NGlight rain 30.15oC
See More >>
Subscribe to our Newsletter
Get the latest news and updates by signing up to our daily newsletter.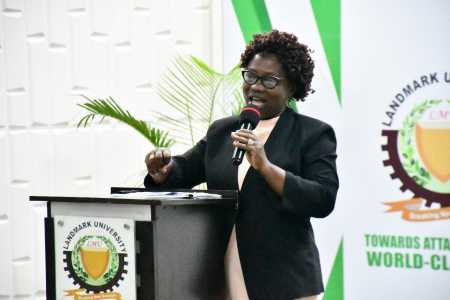 Story of the week
ACTING VC UNVEILS URGENT ACTION PLANS TOWARDS VISION REALIZATION