CHOOSE LANDMARK UNIVERSITY
On Saturday 11th May 2019, Landmark University participated in an Education Fair organized by Laura Stephens Secondary School, Lekki Lagos as the only indigenous tertiary institution. The school's Education Fair was organized to provide a platform for parents to shop for notable and reliable tertiary institutions or colleges within and outside Nigeria for their wards.
The Vice-Chancellor, Professor Adeniyi Olayanju represented by the Deputy Registrar, Ms. Fola Oyinloye in his presentation introduced Landmark to both parents and students participating at the fair as he emphasized the agrarian mandate of the University. The Deputy Registrar who highlighted some of the innovations and feats of the varsity especially in the areas of crop farming and processing, cattle rearing, hydroponics agriculture and poultry among others, took the participants through a tour of the institution which resulted in parents' expression of interest in hydroponics agriculture of the school.
She added that Landmark has an edge over other institutions because irrespective of the course of a student, there is an opportunity of being trained in agricultural practices through the Agriprenureship certification programme. Ms. Oyinloye took the participants through the Vision, Mission and Core Values of Landmark, the collaboration and accreditation of professional bodies of all the 23 programmes currently run by the school, the School of Postgraduate Studies, Total Man Concept, (TMC), Towards Total Graduate (TTG) and other viable programmes and services amongst others she said is a proof of the irresistible gains that Landmark stands to offer.
Parents and wards who trooped to Landmark stand after the seven minutes presentation marveled at the institution's ability to provide qualitative education and character grooming at minimal cost thereby availing them the opportunity of enrolling their wards in an indigenous University of world-class standard.
She urged parents present to utilize the opportunity given by the proprietor base to provide qualitative education in the country and allow their wards benefit from the inexhaustible advantages Landmark has to offer thereby raising a new generation of Leaders, an army of reformers and solution providers.
The Deputy Registrar, Ms Fola Oyinloye during her presentation at the education fair.

The Deputy Registrar, Ms Oyinloye and Landmark Admission Officer, Ms. Ruth Apata attending to parents at the Landmark stand at the fair.

The Landmark Team attending to Participants at the Education Fair.
Today @ LMU
Omu-Aran, NGclear sky 20.53oC
See More >>
Subscribe to our Newsletter
Get the latest news and updates by signing up to our daily newsletter.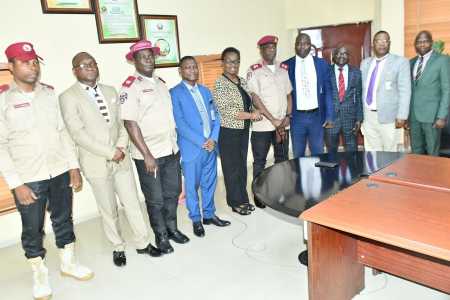 Story of the week
LANDMARK UNIVERSITY RECEIVES NEW FRSC KWARA SECTOR COMMANDER