SCHOOL OF POSTGRADUATE STUDIES RECEIVE FRESHMEN
Landmark University School of Postgraduate Studies has received the first set of freshmen spread across various programmes as approved by the National Universities Commission (NUC). While welcoming the students to campus on behalf of the Vice-Chancellor, Professor Adeniyi Olayanju, the Dean of the School (DSPS), Professor Charity Aremu, advised the students to demonstrate great commitment to their programmes, noting the significance of a good beginning to their academic success. She described the Postgraduate School as the flagship of research activities which are targeted at addressing major national and global challenges, thereby promoting the image of the University. The Dean urged the students to be deliberate and urgent in their registration process with a view to commencing academic activities in line with the school calendar. She also assured them that the stipulated date of completion of their programmes is sacrosanct, provided they make adequate commitments towards meeting the graduation requirements, as LMU is a credible institution per excellence and reputed for stable academic calendar.
The Dean rolled out the school registration and fee payments protocols towards fulfilling the requirements of their studentship status and further implored them to complete their registration by ensuring that all documentations are made before proceeding to their various departments. She also notified the students on the need to update their financial obligations from time to time, as they remain evidence of their studentship in the School. Professor Aremu encouraged them to bear in mind that there is a lifeline for all documentations, registration protocols including payment as a student of the School. She therefore presented the students to the members of Faculty in attendance and implored them to make use of the rich endowments in LMU to enhance prompt completion of their higher degree programmes.
In his response, on behalf of the students, Mr. Toluwalase Awe appreciated God for ordering their steps to Landmark University for their postgraduate studies and promised that the students would make the best use of their time on the programme.
Entrance of the School of Postgraduate Studies, Landmark University.

Newly admitted Students during the registration exercise.

Mr. Toluwalase Awe, responding on behalf of other students.

The Dean School of Postgraduate Studies Professor Charity Aremu in a group photograph with the newly admitted students.
Subscribe to our Newsletter
Get the latest news and updates by signing up to our daily newsletter.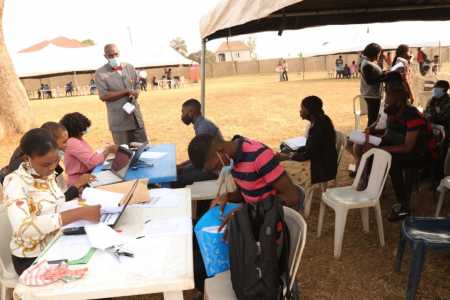 Story of the week
LANDMARK WELCOMES NEWLY ADMITTED STUDENTS