VC CHARGES THE DIRECTORATE OF STUDENT AFFAIRS AT AN IN HOUSE TRAINING
The Landmark Vice-Chancellor, Professor Adeniyi Olayanju on Wednesday 30th September 2020, charged the members of the Directorate of Student Affairs to exercise caution while discharging their duties. The Vice-Chancellor, who advised the participants to avail themselves of the opportunity of building capacity on the job, added that effective and efficient service delivery will take them to a glorious destination.
Professor Olayanju, who shared his experience as one-time Deputy Dean and Dean of Student Affairs, FUNAAB, inspired them not to despise the days of humble beginnings rather use the phase as an avenue to garner experience needed to excel professionally. He noted that the training is pertinent as one of the prerequisites in preparation for students' resumption after the COVID-19 lockdown. "You can't give what you don't have, and your impact after the training will go a long way in discharging your duties," he further enthused.
Speaking earlier, the Registrar, Miss Fola Oyinloye commended members of the Directorate for organizing the training at such a time. Miss Oyinloye, drew from her over-a-decade experience in student affairs as she advised the participants to maintain integrity while on duty. According to her, working in the Directorate is highly dignifying and unique as against the belief that it is a punishment ground. Miss Oyinloye made it known that the unit is very crucial in the University structure because its staff would be held accountable for the destinies of the students in the future.
The Registrar who frowned at those exhibiting double standards on duty cautioned them to desist from such act and embrace transparency. "You hold a very delicate and important position of moulding lives and destinies. It is an essentially spiritual assignment, you have to be spiritually sound to discern while taking actions". She advised further, "be sure not to mismanage the students, when they are wrong don't cover them, but don't allow anyone to cheat them either."
Miss Oyinloye concluded her remarks with the scripture, "Finally brothers and sisters, whatever is true, whatever is noble whatever is right, whatever is pure, whatever is lovely, whatever is admirable – if anything is excellent or praiseworthy – think about such things (Philippians 4:8)". She, therefore, urged the participants to always put in their best, stand for the truth and endeavor to eschew self-gratification.
Also presenting his paper titled, "Professionalism and Spirituality: Platform for Achieving Excellence", the Dean of Student Affairs, Dr. Olukayode Adebimpe highlighted the essentials for achieving excellence through professionalism, stating that participants must exercise the fear of God while discharging their duties, be productive and maintain effective work habit. He added that they should also develop a professional image, time management, be resilient and demonstrate integrity while relating with the students. He concluded that the participants must be problem-solver by doing what is right in order to ensure excellence.
In another presentation, the Dean of Student Affairs spoke on the three-tier responsibilities of the Directorate which are Student Welfare, Student Development and Student Discipline. He noted that the above premised on the seven Core Values of Landmark University and encouraged them to hold them as their guiding principle while in and out of work.
Other paper presenters including the Units Coordinator of the Directorate, Mr Ibitoye Oladayo; A.O. Monitoring and Surveillance (Female), Miss Janet Omodunbi; A.O. Student Development, Mr Noah Olaibi; and A.O. Monitoring and Surveillance (Male) Mr Akanni Babtunde, among others, took the participants through different sessions of training, brainstorming and interactions on ways to further improve on the bar of excellence in discharging their duties.
Today @ LMU
Omu-Aran, NGclear sky 20.37oC
See More >>
Subscribe to our Newsletter
Get the latest news and updates by signing up to our daily newsletter.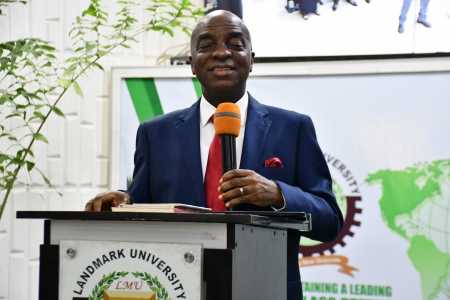 Story of the week
LANDMARK HOLDS 2022 STAFF EXECUTIVE ADVANCE