RAW MATERIALS RESEARCH AND DEVELOPMENT COUNCIL SEEK POSSIBLE COLLABORATION WITH LMU
The Raw Materials Research and Development Council (RMRDC), an agency of the Federal Government of Nigeria (under the supervision of Federal Ministry of Science and Technology), on Tuesday 18th September, 2018, reached out to Landmark University for possible collaboration on laudable projects. The proposal was revealed in a meeting held between the Kwara State Coordinator of the Council and members of the University Management ably led by the Vice-Chancellor, Professor Adeniyi Olayanju.
While receiving members of the Council, the Vice-Chancellor emphasized how noteworthy it is for Landmark University as an agriculture-based institution to associate with the Council. "Without preempting the purpose of your visit and content of your proposal, we are thrilled by the understanding of our areas of possible convergence as suggested in the vision and mission statements of our respective organizations. I note with keen interest the operational priority of our two organizations that dwells on food, product development drive, promoting made-in-Nigeria products and services, pursuing value addition to our natural resources and other people-centered engagements," he added.
The Vice-Chancellor reiterated that food security, economic recovery of the nation and restoration of the dignity of the black race can be speedily achieved if both institutions explore areas of strength timely. He, therefore, hoped that the proposal presentation will put their resources in adequate perspectives, provoke thoughts and proffer the needed solutions for humanity.
In her response, the Kwara State Coordinator of RMRDC, Mrs. Adewunmi Lydia, stated that the agency is vested with the mandate of promoting the development and utilization of Nigeria's industrial raw materials and that one of the mandates of the Council is to seek possible collaboration in terms of research with the private sector or tertiary institution like Landmark University. She said RMRDC was established by the RMRDC Act, originally promulgated into law by Decree 39 of 1987 and presently cited as RMRDC Act, CAP R.3 Laws of the Federation of Nigeria, 2004. RMRDC was established at a time when dwindling foreign exchange earnings from petroleum was expended to import raw materials and products which were available or could be competitively produced in Nigeria. "It commenced operation in Lagos on February 10, 1988. Currently, RMRDC operates from its corporate Headquarters in Abuja with coordinating offices in the thirty six (36) states and the Federal Capital Territory (FCT). RMRDC is today, Nigeria's focal point for the development and utilization of the nation's vast industrial raw materials resources, thus facilitating the establishment of new resource-based industries which in turn provide new job opportunities and contribute to the nation's Gross Domestic Product (GDP)."
She concluded that the council is looking in the way of providing career counseling to students on entrepreneurship, cashew and honey project, plantation, cashew bread and snacks, resource centres, mechanization among others.
Subscribe to our Newsletter
Get the latest news and updates by signing up to our daily newsletter.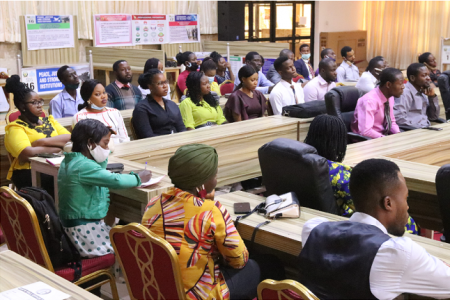 Story of the week
SCHOOL OF POSTGRADUATE STUDIES WELCOMES FRESHMEN