VC CHARGES DURING 2020 2021 OMEGA SEMESTER WELCOME ASSEMBLY
The Vice-Chancellor, Landmark University, Professor Adeniyi Olayanju has advised the students of the University on the need to scale up engagement with their studies in the 2020/2021 Omega Semester, emphasizing that it is diligence that culminates in all-round academic success. The Vice-Chancellor gave the charge at the Welcome Assembly events for the students in 100 – 200 level and 300 – 500 level on Tuesday 25th and Thursday 27th May 2021 respectively.
In his address, the Vice-Chancellor reiterated the commitment of the University to its responsibility of continually facilitating an improved conducive environment for learning while encouraging the students to maximize the privileged provision.
"May I assure you of the total commitment of the University in sustaining a conducive environment for your academic, moral and spiritual growth and development. All what you need to do is to judiciously engage the facilities and maximize the learning opportunities offered by the University for your attainment of the desired improved performance," he said.
He further warned them to resist temptation of indulging in anything that can threaten their studentship and mortgage their glorious future as the University will not compromise her zero tolerance for any misbehavior. He emphasized that "No one guilty of any act of indiscipline or misconduct will be spared of the consequences as stipulated in the handbook."
The Registrar, Miss Fola Oyinloye had earlier made relevant announcement to the students bothering on commencement of lectures, attendance and other academic engagements in view of the expectations of the University towards a robust Omega semester.
The Chaplain of the University, Pastor Tope Johnson exhorted the students to recognize focus as indices of success while quoting Matthew 6:22. He, therefore, declared God's blessings upon the students and entire University for a successful semester.
The students had earlier resumed the campus between 22nd and 24th May, 2021 from a short break after the Alpha semester examination. The 3-day resumption schedule was to ensure the students returned conveniently and safely while making the process of admitting them into the Landmark community in line with safety protocols hitch-free.
Today @ LMU
Omu-Aran, NGlight rain 29.25oC
See More >>
Subscribe to our Newsletter
Get the latest news and updates by signing up to our daily newsletter.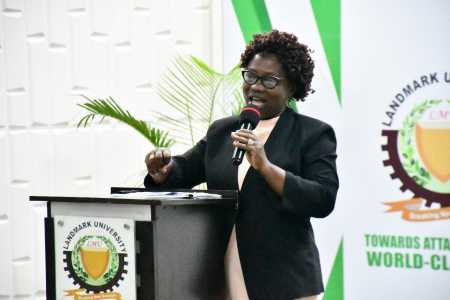 Story of the week
ACTING VC UNVEILS URGENT ACTION PLANS TOWARDS VISION REALIZATION