THE FUTURE IS BRIGHTER WITH SOLAR
One of the signs of marking the land is putting in place sustainable initiatives most especially as it applies to the visionary drive in Landmark. The Vice-Chancellor, Professor Adeniyi Olayanju made another of such remarkable move when he received RanaPower Energy Manufacturing Company Limited on 18th April, 2019 to chart another course for a sustainable solar power project to drive the agrarian mandate of the University.
While welcoming the RanaPower team on behalf of the University community, the Vice-Chancellor expressed confidence in the project when he stated that power is central to any meaningful development in any society and organization, as Landmark is no exception to this. "The quest for a reliable power supply supportive of uninterrupted developmental and research activities made the University Management consider your presentation of what you intend to bring on board capable of adding value to our University. As our commitment to best practice and steady power supply is irreversible, we look forward to access the technical expertise of RanaPower Energy Company Limited in boosting our power supply capacity."
Noting the Company's success in the completion of 300KW large-scale solar farm currently powering the KWASU's Library, Administrative, Girls' Hostel and other facilities in Malete, including 60KW small-scale solar farm for the American Christian Academy, Ibadan, Professor Olayanju observed that they are noteworthy accomplishment that endeared Landmark to the organization. As this serves as wealth of experience in solar energy that the University benefits from to power range of servicing equipment and machineries cutting across strategic units of Landmark.
Making a presentation on behalf of the Ranapower team, Mr. Teslim Balogun who is the company's Assistant Manager stated that the success rates of alternative power; most especially on solar has been highly impressive, noting the feat recorded at the Kwara State University (KWASU). Mr. Balogun noting some of the benefits of investing in solar power as a University said, the project would generate International grants, reduce diesel consumption drastically, and provide research platforms for Faculty among others. He added that their organization will be privileged to collaborate with Landmark for the success of the project as earlier attained in other Institutions.
Also speaking, the General Manager Ranapower, Mr. Babatunde Ayinde appreciated the members of Management ably led by the Vice-Chancellor, Professor Adeniyi Olayanju for receiving the team as he urged the community to maintain the beautiful ambience of the Institution. Ranapower manufactures solar panels and solar energy products locally to reduce cost, create Nigerian jobs and ensure returns on investment.
Today @ LMU
Omu-Aran, NGclear sky 20.37oC
See More >>
Subscribe to our Newsletter
Get the latest news and updates by signing up to our daily newsletter.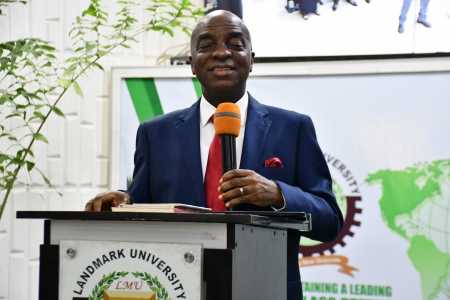 Story of the week
LANDMARK HOLDS 2022 STAFF EXECUTIVE ADVANCE