LMU FACULTY WINS NATIONAL PRIZE IN MICROBIOLOGY
The Nigerian Young Academy (NYA), an arm of the Nigerian Academy of Science (NAS) has awarded the 2018 edition of the National Young Scientist Prize in Microbiology to Dr. Olatunde Samuel Dahunsi of the Microbiology Department, Landmark University. This prestigious award instituted by the Microbiology living legend, Professor Oyewale Tomori (A globally acclaimed Virologist and pioneer Vice-Chancellor of Redeemers University) is aimed at recognizing young Nigerians who have demonstrated research prowess and made outstanding contributions in the field of Microbiology.
In a statement released by the NYA, the academy was highly impressed with Dr. Dahunsi's application, and following rigorous evaluation from the overwhelming pool of submissions received for the award; the General Assembly ratified him as the winner of the 2018 round of Professor Oyewale Tomori National Prize in Microbiology. He is the fourth in history to win this award following the earlier winners: Professor Lateef Agbaje (Ladoke Akintola University of Technology, Ogbomoso), Professor Obinna Nwinyi (Covenant University, Ota) and Dr. Chinwe Chukwudi (University of Nigeria, Nsukka), who won the award in the years 2013, 2015 and 2017 respectively.
This award was presented amidst accolades at the 8th Scientific Conference and General Assembly of the NYA, which held at the University of Medical Sciences, Ondo between 28th and 30th August, 2018. Landmark University was fully represented at the occasion to celebrate this milestone of her faculty who has made the institution proud on a number of occasions with his giant strides in research, publications and product development. In attendance was the Director of Academic Planning, Dr. Babatunde Adebesin who represented the Vice-Chancellor, Professor Adeniyi Olayanju. With him were the Director, University Wide Courses, Dr. John Ojediran, and Professor Stephen Owa among others.
Another major highlight of the occasion was Dr. Dahunsi's lecture titled, "Man and Microbes: Exploring the Environmental Sustainability Nexus". In his usual characteristics, Dr. Dahunsi thrilled the audience with very insightful and carefully woven account of his exploits in research in the last few years. Dr. Dahunsi's huge contributions to the field of renewable and sustainable energy generation as well as organic biofertilizer production and utilization from locally available and underutilized biomass and waste materials were greatly emphasized in his citation. He has successfully carved a niche for himself as one of the very few young Africans who have excelled in the core competence research areas of biofuels and sustainable agriculture with several products to show.
Congratulations to Dr. Dahunsi.
Dr. O.S. Dahunsi, the recipient of the 2018 National Young Scientist Prize in Microbiology

Dr. O.S. Dahunsi (2nd Left) and other conference attendees

Dr. O.S. Dahunsi (5th right) flanked by members of Landmark University community at the conference
Today @ LMU
Omu-Aran, NGbroken clouds 26.12oC
See More >>
Subscribe to our Newsletter
Get the latest news and updates by signing up to our daily newsletter.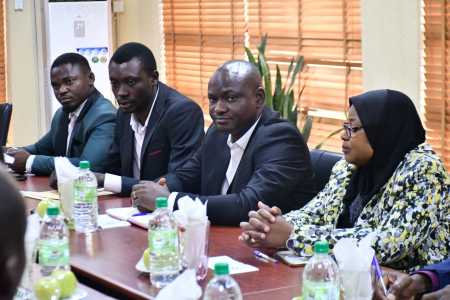 Story of the week
SON KWARA STATE SEEKS COLLABORATION WITH LANDMARK