POWER IS PIVOTAL TO NATIONAL DEVELOPMENT
On Wednesday 25th September 2019, the Vice-Chancellor, Professor Adeniyi Olayanju and other members of Management hosted the new Management of the Ibadan Electricity Distribution Company (IBEDC) Kwara State Region on a familiarization visit to Landmark. Receiving the team from IBEDC, the Vice-Chancellor emphasized the role of uninterrupted power supply to national cum organizational development, stating that little or nothing can be achieved without power supply. He added that the visit was necessary to further improve the relationship between both parties. "The services of the IBEDC are not new to us as we have been a community of reliable customers; there is little or nothing done without power this is how pivotal electricity is to aiding our agricultural processes."
Professor Olayanju informed the team that Landmark community has been practising metering system which has been helpful in energy management. The Vice-Chancellor revealed that Landmark has started working on turning waste to wealth and energy, hence the creation of Landmark University Waste to Wealth and Energy Initiative Centre (LUWWEI) designed to generate IGR and alternative power supply. He, therefore, urged IBEDC to expedite actions on upgrading their services to be fully digitalized in order to reduce energy wastage by consumers in the region.
Responding, the Regional Manager IBEDC Kwara State region, Engr. Musbau Ajisafe appreciated Landmark University as a consumer worthy of emulation, while he made it known that Landmark is the second largest consumer they have in the region. He urged the institution to further strengthen the existing relationship as he promised the company's cooperation as well as improving the power supply to the community.
Today @ LMU
Omu-Aran, NGclear sky 20.37oC
See More >>
Subscribe to our Newsletter
Get the latest news and updates by signing up to our daily newsletter.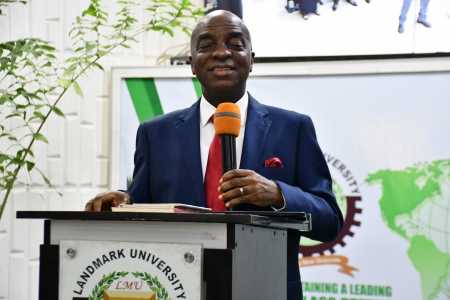 Story of the week
LANDMARK HOLDS 2022 STAFF EXECUTIVE ADVANCE