POSTGRADUATE EDUCATION PROVIDES STANDARD THAT DEFINES GOOD PRACTICE
The Vice-Chancellor, Professor Adeniyi Olayanju has reiterated that all postgraduate students of the University should be rest assured of availability of mentors among faculty and staff who are ready to stimulate, facilitate, demand and celebrate the highest standards of excellence in research. He made this known during the 2019 Orientation Programme for Freshmen Postgraduate Students with the theme "Postgraduate Studies for Global Impact", which held at the school.
Professor Olayanju noted that the Postgraduate School works to promote academic excellence, provide quality control for all aspects of postgraduate education and maintain standards that define good practice in all postgraduate programmes, as the University remains committed to playing its role as an institution of higher learning with teaching and research facilities. He notes that opportunities abound at Landmark University to students' creative, innovative and research potentials, which when properly harnessed would make a significant contribution towards addressing the nation's challenges and promoting sustainable development.
"This administration has strong commitment to the development of a prosperous, knowledge-based, practical-oriented and solution-driven postgraduate school, which recognizes and values diligence and excellence that can make Nigeria great and reposition Africa for relevance in the scheme of things across the globe. Those of you admitted to this school should consider yourselves privileged because of the resources available on this ground to propel you to the zenith of your life aspiration. Notice however that there is no alternative to food, without it existence is threatened, aspirations becomes unrealistic and future insecure."
Speaking on the topic "LMU Vision: The Nexus to the Globe", the Registrar, Miss Adefunke Fola Oyinloye stated that the University's global vision and mandate is spearheading an agrarian revolution with initiatives in mechanized and soilless farming (aquaponics/hydroponics), introduction of IT for Data Management, embracing world class practices in cattle rearing through artificial insemination, automated battery cages for poultry production.
According to the Registrar, Landmark's vision is from Africa to the uttermost parts of the earth a global mandate with a local base "we have hidden treasures in the Mother Earth (rich, arable lands capable of providing variety of farm produce both for consumption and exportation. Africa is rich in Corn or maize, Cassava; Grains, Fruits, Vegetables, Wool, Cotton, Tobacco, Tea, Coffee, Sugar cane, Nuts, etc.). Eradication of hunger and poverty through farming will give relevance to global economy, and bring about the restoration of dignity for the Black race."
She also reiterated that Landmark Core Values provide the platform for the University to achieve its aspired World Class Status as they provide the base for sound, ethical conducts in consonance with global best practices and universal principles. Noting that they are guiding principles which every member of the community must daily exhibit, within or outside the University; whether they are being watched or not, as they help mold us spiritually, mentally and academically because it is expected upon graduation that undergraduate students are pronounced as, been found worthy, both in character and learning, so also the postgraduates.
In her welcome address the Dean, School of Postgraduate Studies, Professor Charity Aremu who inspired high expectations on the students noted that the purpose of orientation is to craft and incline their minds to accept and embrace the statues of the system. She stated that the School takes responsibility of driving and leading students in fulfilling Landmark vision, and the responsibility would be to provide information requisite about the University vision, create enabling ambiance for teaching/learning and research and provide directions on acceptable research output for impact.
Later on, Professor Olugbenga Solomon Bello of the Department of Industrial Chemistry, took the students exciting journey on "Advancing Research Beyond the Shelves", which was built on how to identify academic and administrative hubs that guide postgraduate research, make informed decisions on guided steps to take towards acceptable research methods, carry out impactful research that touches on solution to man's needs and publishing in reputable world acclaimed outlets
Today @ LMU
Omu-Aran, NGlight rain 27.17oC
See More >>
Subscribe to our Newsletter
Get the latest news and updates by signing up to our daily newsletter.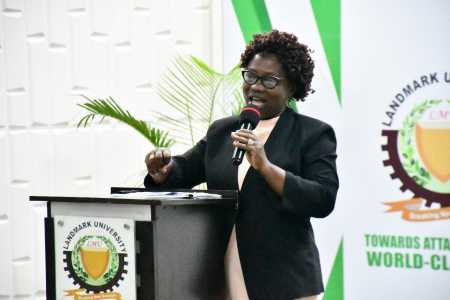 Story of the week
ACTING VC UNVEILS URGENT ACTION PLANS TOWARDS VISION REALIZATION