LANDMARK VICE CHANCELLOR MONITORS POSTGRADUATE SCHOOL OMEGA SEMESTER EXAMINATION
The School of Postgraduate Studies, Landmark University, commenced her 2019/2020 Omega Semester examination on Monday 26th 0ctober 2020. Following this development, the Vice-Chancellor, Landmark University, Professor Adeniyi Olayanju paid an inspection visit to the School and the examination venues. Professor Olayanju who was accompanied by the Director, Academic Planning, Professor O.S. Adeyemi and the Head, Academic Affairs, Mr Samuel Dare was led round the ongoing examination by the Dean of the School, Professor Charity Aremu.
Speaking while at the office of the Dean, the Vice-Chancellor expressed his appreciation to the Dean and the Staff of the School as well as the Timetable and Examination Committee (TIMTEC) for their unwavering commitment in planning and conducting the examination almost immediately after resumption from the Covid-19 lockdown break. Professor Olayanju stated that the student attendance captured was highly encouraging and enough to start the examination. "We are here to show our support to the School and to have a monitoring tour on the conduct of the examination," the Vice-Chancellor noted.
Later, the Vice-Chancellor joined the School of Postgraduate Studies Board in a meeting where he addressed them as part of his monitoring tour. Professor Olayanju used the medium to emphasize the need to key into the Sustainable Development Goals (SDGs) research groups, noting that every dissertation or thesis must align with the University drive. He, thereafter, eulogized them for remaining resilient in driving the vision of the University.
Responding, the Dean School of Postgraduate Studies, Professor Charity Aremu who reiterated the commitment of the School to raising an army of global giants and leaders made it known that the 2019/2020 Omega Semester examination is an evidence of the School's engagement with the students while on Covid-19 lockdown break. Professor Aremu asserted that the students were engaged in fifteen weeks online lectures where the Faculty duly used telegram with the aid of short videos to enhance teaching and learning. On quality control, the Dean stated that assignments were given to assess the level of involvement of each student with adequate monitoring. According to her, the two weeks examination which started on 26th October will end on the 5th of November, 2020.
Today @ LMU
Omu-Aran, NGclear sky 19.74oC
See More >>
Subscribe to our Newsletter
Get the latest news and updates by signing up to our daily newsletter.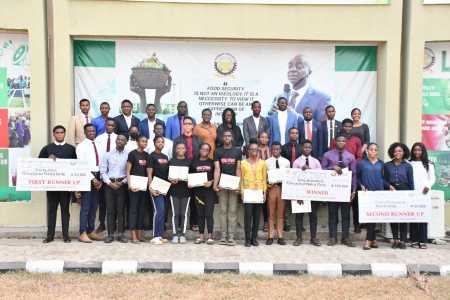 Story of the week
LANDMARK HOLDS INNOVATIVE CHALLENGE TOWARDS