OUR GREENER PASTURE IS IN GODS LEADING CHANCELLOR CHARGES LANDMARK UNIVERSITY COMMUNITY
The Chancellor, Landmark University, Dr. David Oyedepo has charged Faculty, Staff and Students on the benefits of divine guidance to fulfilling God's agenda and making the most of living on earth in the Special Chapel Service held at the University's Multipurpose Hall on Tuesday 20th February 2018.
In a sermon titled, "Understanding how to be led by the Spirit through divine encounter" the Chancellor emphasized that spirituality is the gateway to divine agenda, noting its profitability to all things (1 Timothy 4:8). Quoting Proverbs 14:12/16:25, Galatians 5:25, and Revelation 1:10/4:1, he revealed that to possess a glorious future, walking with God is inevitable and that any life not secured in Christ will end up being frustrated.
"We need to be led by the Holy Spirit as not to become victims of failure and stagnation. The Holy Spirit still guides today, if we live in the Spirit, let us also walk in the Spirit.You can pick what God is saying at any point in time," he said.
Citing Scriptural examples of Moses (Exodus 3:5), Gideon (Judges 6:12) and Paul (Acts 9:3), Dr Oyedepo said one divine encounter in a life time opens several new chapters to one's life. He noted that it was same one encounter with the Spirit that gave birth to the Living Faith Commission with life-impacting mandate today. He added that through the leading of the Spirit, the Commission also came out of obscurity and poverty.
Dr. Oyedepo therefore warned the youths not to outpace the leading of the Spirit as many of them are always in a hurry seeking greener pastures. He said that there is no greener pasture anywhere, our greener pasture is in leading of the Spirit. "For the giants in you to emerge, walking in the spirit is the way to it (2 Timothy 3:15). If you are not spiritual, you will pay for it. If you are spiritual, you will live to enjoy it."
While underscoring how fundamental obedience is to divine guidance, Dr.Oyedepo said he has never regretted following Christ since the age of 15. He revealed that it takes the liberating power of God coupled with obedience and diligence to live at the center of God's purpose. He said that he had prayed to God to let him bear his yoke in his youth so he could enjoy his old age when he discovered the Scripture of Lamentations 3:27 in 1979. He, therefore, encouraged the Kings and Queens (Students) especially to invest their best in their endeavours, saying that success and excellence are not mystical but achievable through the dignity of assiduousness. He added that man's extraordinary effort makes extraordinary things happen.
Earlier, Pastor Mrs. Faith Oyedepo, the wife of the Chancellor and member Board of Regents, Landmark University and Vice-President Education Living Faith Church Worldwide, who was in the company of the Chancellor in a short charge, motivated the assembly on the blessedness of adhering to instructions quoting Proverbs 8:33.
The Chancellor, Dr. David Oyedepo while giving charge to the Landmark University community

Pastor Mrs. Faith Oyedepo while giving her short charge

The Vice-Chancellor, Prof Adeniyi Olayanju, welcoming the chancellor for his Charge

The Registrar, Dr Azubuike Ezenwoke during the Service.

Cross Section of Faculty During the Service
Today @ LMU
Omu-Aran, NGclear sky 19.27oC
See More >>
Subscribe to our Newsletter
Get the latest news and updates by signing up to our daily newsletter.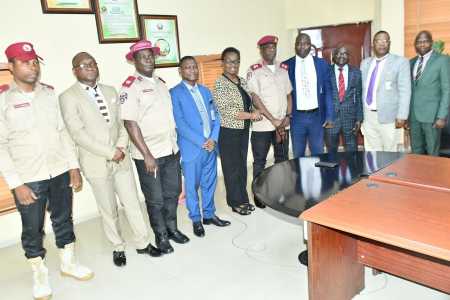 Story of the week
LANDMARK UNIVERSITY RECEIVES NEW FRSC KWARA SECTOR COMMANDER