OMU-ARAN POLICE COMMAND VISITS LMU, REASSURES SUSTAINABLE SECURITY
OMU-ARAN POLICE COMMAND VISITS LMU, REASSURES SUSTAINABLE SECURITY
The new Divisional Police Officer (DPO) of the Omu-Aran Area Command, SP Peter Ajugwu, led officers of the command on a courtesy visit to the University on Friday, 13 October, 2017. According to the DPO, the visit was to reassure the University of Police's commitment to sustaining the existing safety that characterize the University campus and her host community at large.
Receiving the officers on behalf of the Chancellor, Dr David Oyedepo, the Vice-Chancellor, Professor Adeniyi Olayanju, appreciated the DPO and his team for the visit. He quoted Psalm 127 verse 1, saying that the existing security and safety within the University community was made possible by God who empowered the Police. He acknowledged their contributions towards continuous safety of lives and property in the country in spite of limited facilities available for their operations. The Vice-Chancellor reaffirmed the University's unremitting relationship with the force, noting that the agrarian revolution vision would only be achieved in a serene and peaceful environment. He therefore called on the Division to expand the borders of the relationships between both institutions for the benefit of humanity.
The DPO who was delighted to be warmly received said the Command has not only come to reinstate its commitment but also to appreciate the University for the special attention devoted to safety and security which has in no small measure contributed to the stability success in the environment in terms of peace and order. He commended the University's Security Committee ably led by its Chairman, Dr Adegbite and the Security Personnel for their efforts day and night.
Arising from their robust interaction during the meeting, both the Landmark University and Police teams look forward to a working and prospective collaboration. The Police Chief guaranteed regular training of security personnel in the University to strengthen their operations in line with global best practices. He remarked that Nigeria has benefitted a great deal from her Private Universities as many of them are setting the standard for quality education, and Landmark University is not lagging behind in living her vision of spearheading an agrarian revolution which has culminated in the economic growth of the host community and its environs. He therefore concluded that the safety of the University would be prioritized, pledging their readiness to answer to the University's call at all times.
Receiving the Police officers with the Vice-Chancellor were the Registrar, Dr Azubuike Ezenwoke; DFS, Pastor Frederick Aghahuwa; DLUF, Dr John Izebere; and members of the Security Committee – Dr Adegbite, Dr Adekunle Animashaun, Engr Dickson Egbune, and Engr Gbenga Babatunde.
Today @ LMU
Omu-Aran, NGovercast clouds 25.45oC
See More >>
Subscribe to our Newsletter
Get the latest news and updates by signing up to our daily newsletter.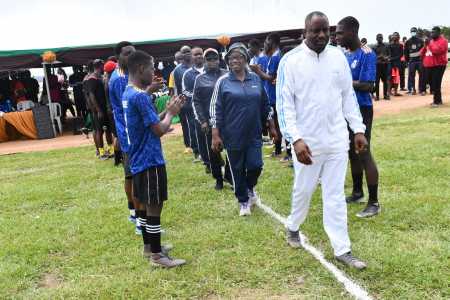 Story of the week
2022 CHANCELLORS CUP KICKS OFF