OMU-ARAN MEDIUM PRISON OFFICERS VISITS LANDMARK UNIVERSITY
On Tuesday 26th April, 2016, Officers of the Omu-Aran Medium Prison paid a courtesy visit to Management of Landmark University led by the Vice-Chancellor, Professor Aize Obayan, to express the Command's appreciation to the Institution for supporting its operations thus far.
Receiving the delegation, Professor Aize Obayan spurred the officers to see their job as service to God and humanity, while believing in Him emphatically that He is all sufficient. She urged them to bring out the best in the inmates while serving their various terms as she challenged them to tap from the grace of God on the Liberation Mandate of the proprietor base of Landmark University. "The mandate is to see how we break the shackles of hunger; one of the University's roles is community development, people outside the gate of the University must feel the impact".
Professor Obayan urged the Officers to put concerted effort to reforming the inmates saying that the prison should be a gateway to making them become responsible citizens as she cited Nelson Mandela's case as an example. She however promised the continuous support of the institution through the Community Development Impact Committee (CDIC) and the Liberation Army for the inmates.
Responding on behalf of the community, Dr. Layi Afolayan a faculty with the Department of Animal Science admonished the officers of the Nigerian Prison Services to be more proactive to their duties, seeing their job as a calling to serve humanity. "Work on human beings is a great call and enormous task, please note that whatever you do is a seed to be reaped one day''.
Leading the delegation from the Omu-Aran Medium Prison, the Welfare Officer, Rasheed Shittu expressed the Command's gratitude for the support they have enjoyed thus far, he added that the Community Development Impact Committee and the Liberation Army have been coming to the rescue of the inmates providing succor and welfare for them. The Welfare Officer however solicited for the institution's support for more projects and welfare materials.
High point of the visit was the presentation of letter of appreciation by the Omu-Aran Medium Prison to Landmark University community handed over to the Vice-Chancellor, Professor Aize Obayan which was later read to the members of Management present.
The gesture of the University is towards the fulfillment of its commitment to restoring hope and dignity of the Black Race.
Today @ LMU
Omu-Aran, NGovercast clouds 21.75oC
See More >>
Subscribe to our Newsletter
Get the latest news and updates by signing up to our daily newsletter.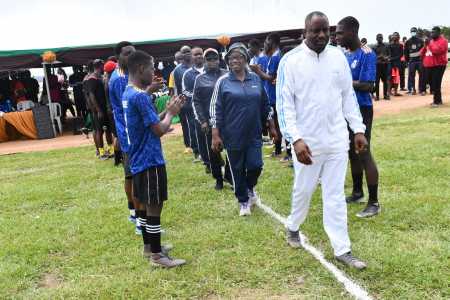 Story of the week
2022 CHANCELLORS CUP KICKS OFF