NYSC SENSITIZES PROSPECTIVE LANDMARK UNIVERSITY PATHFINDERS
On Friday 15th of January 2016, a team of delegate from the National Youth Service Corp (NYSC) held a sensitization program for prospective graduates of the 2016 class of the Landmark University. The prospective graduates christened Pathfinders converged at the Multipurpose Hall, as they were addressed by Mrs.Olutayo Samuel, the NYSC Assistant Director, for Skill Acquisition and Entrepreneurship Development (SAED).
Mrs. Samuel who took the students through the rudiments of registration, importance of early registration, and conduct of Corps Members at the Orientation Camp urged them to take the national assignment seriously, as it is a clarion call to serve the nation. She pointed out some of the avoidable difficulties prospective Corps Members could encounter while on service. This she believed would be preventable as a result of the privileged information which the seminar provides. She appreciated the initiatives of the institution for organizing the sensitization program for prospective graduates, while calling on other higher Institutions of higher learning to imitate such culture from Landmark University platform. She further eulogized the past sets of Pathfinders for being impactful and well organized at the Orientation Camp, while urging the next set of graduands to emulate such virtues from their predecessors.
In his response, the Dean, Student Affairs, Dr. R.A Animashahun appreciated the team of NYSC facilitators for honouring the University's invitation, as he noted that all information given were very vital. Assuring the team that graduates of Landmark University are adequately groomed in academics and character, he remarked that Orientation Camp would not be stressful for the students because discipline and hard work has been inculcated in them right from school.
Today @ LMU
Omu-Aran, NGclear sky 21.32oC
See More >>
Subscribe to our Newsletter
Get the latest news and updates by signing up to our daily newsletter.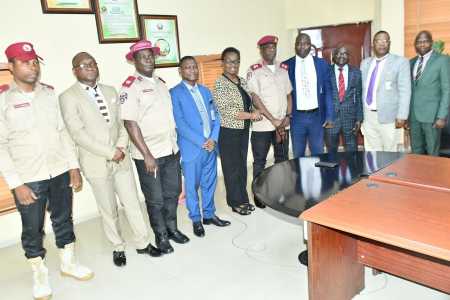 Story of the week
LANDMARK UNIVERSITY RECEIVES NEW FRSC KWARA SECTOR COMMANDER