NUC RETURNS FULL ACCREDITATION STATUS TO 4 ENGINEERING PROGRAMMES OF LANDMARK UNIVERSITY
NUC RETURNS FULL ACCREDITATION STATUS TO 4 ENGINEERING PROGRAMMES OF LANDMARK UNIVERSITY
The National Universities Commission (NUC) has returned all the 4 Engineering programmes of Landmark University with full accreditation status following the May/June 2017 accreditation exercise. These 4 Engineering programmes are Mechanical Engineering, Chemical Engineering, Civil Engineering, and Electrical & Information Engineering.
According to the Commission's letter to the Proprietor of the University – the Living Faith Church Worldwide – signed by the Director of Accreditation, Dr N.B. Saliu for the Commission's Executive Secretary, the full accreditation status takes immediate effect and shall be valid for a period of five (5) years – between 2017 and 2021. Also, the technical reports and summary of the results revealed that the programmes are highly equipped with requisite facilities, having scored above 90 percent in each.
While relaying the good news to the University community, the Vice-Chancellor, Professor Adeniyi Olayanju, acknowledged God for the well-deserving milestone attained by the University. He said God has enabled the proprietor under the visionary leadership of Dr. David Oyedepo to adequately fund the University to engage required Faculty and acquire requisite equipment which culminated in the outstanding report from NUC. He therefore noted that by this accreditation, all the 23 programmes offered in the University have been fully accredited not only by NUC but also relevant professional regulatory bodies such as COREN, CPN, ICAN, CIBN, among others.
He commended the notable contributions of the erstwhile Vice-Chancellor, Professor Aize Obayan, Management, the entire Faculty and Staff of the University towards ensuring the University's compliant with best practices to actualize her goal of academic excellence and worthy scholarship in the global education landscape.
Today @ LMU
Omu-Aran, NGclear sky 20.53oC
See More >>
Subscribe to our Newsletter
Get the latest news and updates by signing up to our daily newsletter.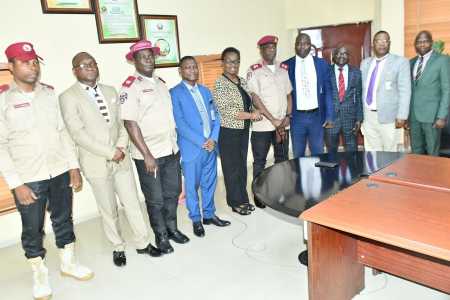 Story of the week
LANDMARK UNIVERSITY RECEIVES NEW FRSC KWARA SECTOR COMMANDER