NUC REVALIDATES AGRICULTURAL SCIENCES AND AGRICULTURAL AND BIOSYSTEMS ENGINEERING PROGRAMMES OF LANDMARK UNIVERSITY
The National Universities Commission (NUC) has re-validated the Agricultural Science and Agricultural & Biosystems Engineering of Landmark University with full accreditation status. Communicating the result to the Vice-Chancellor of Landmark University, Professor Adeniyi Olayanju in a letter signed by the Director of Accreditation, Dr Maryam Sali for the Executive Secretary of the Commission, Professor Abubakar Adamu Rasheed, the programmes scored 88.0% and 94.4% respectfully in the November/December 2020 accreditation exercise which eventually took place between March and April 2021.
He further noted that the full accreditation status earned by the programmes takes immediate effect and shall be valid for a period of five (5) years – between 2021 and 2025. According to the summary of the panels' reports, the courses were highly scored in academic matters, staffing, physical facilities, library collection, research & collaboration, and tracer & employers' rating. It is noteworthy that the programmes also returned fully accredited in the 2015 accreditation exercise.
Receiving the good news, the Vice-Chancellor, Professor Adeniyi Olayanju, attributed the milestone to the unfailing mercies and loving hand of God, the Founder and Funder, over His University. He acknowledged the commitment of the Proprietors under the visionary leadership of the Chancellor and Chairman, Board of Regents, Dr David Oyedepo to excellence and best practices. Also, the Vice-Chancellor appreciated members of management, faculty, staff and students of the programmes for their unflinching support towards the full accreditation status milestone.
While calling on the 2021/2022 admission seekers to leverage the opportunity awaiting them at Landmark University, the Vice-Chancellor, therefore, noted that by this accreditation, all the programmes offered in Landmark University have been fully accredited not only by NUC but also relevant professional regulatory bodies such as COREN, CPN, ICAN, ACCA, CIBN, among others.
Today @ LMU
Omu-Aran, NGbroken clouds 25.33oC
See More >>
Subscribe to our Newsletter
Get the latest news and updates by signing up to our daily newsletter.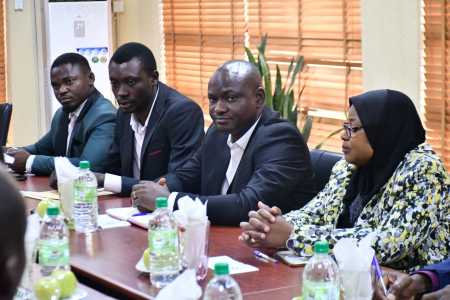 Story of the week
SON KWARA STATE SEEKS COLLABORATION WITH LANDMARK