NO ONE GOES DOWN WORKING WITH GOD – CHANCELLOR
"NO ONE GOES DOWN WORKING WITH GOD" – CHANCELLOR
The Chancellor and Chairman, Board of Regents, Dr. David Oyedepo has reiterated that Spirituality is key towards making the most of one's full potentials in life. He made this known at the University's 2017/2018 Executive Advance programme on Tuesday 23rd August, 2017.
In his teaching titled "Spirituality the Gateway to Intellectual Exploits", he stated that the way to any destination is best taken by someone who knows it. He echoed that Spirituality is about the love of God and commitment to please God. "Man is a triune, he is a spirit, who has a soul and lives in a body. The control of our life is the spirit." Dr. Oyedepo further noted that at creation man was operating in the realm of supernatural intelligence but after the fall he lost it. "The second Adam (Jesus Christ) came to restore what was lost, John 10:10 Mathew 11:11." He further stated that every born again child of God have the capacity to connect with the Spirit of God, as the natural man cannot access this. In his words "there is a spiritual mind planted in you at new birth that makes your spirit come alive. As stated in Ephesians 4:23 our spirit has been re-spirited. Being born again is not a spiritual task, it is a major component of the spirit because at new birth intellectual transformation takes place."
He affirmed further that the Spirit of God makes us custodian of knowledge revealing divine secret to us, as Inspiration delivers anything to the redeemed mind. "It will bring a genius from any dullard and no one goes down working with God". Citing biblical examples like Abraham who made waves in economy, Uzziah who invented engines, and Daniel who also made waves in politics, others are Joseph and Paul, he pointed out that they were intellectual giants due to their spiritual connectivity to God. In the field of knowledge, he added that Michael Faraday, R. G. Le Tourneau and James Clerk Maxwell were identified as people whose impact were linked with their regenerated minds sorely.
He identified three ways to build a robust spirit as, feeding on the word of God, prayer and fasting, and engaging in spiritual stewardship. He concluded by enjoining the University community to engage in Spirituality as a way of life in the new session, in other to achieve the set target for research, product development and impact.
Today @ LMU
Omu-Aran, NGovercast clouds 23.3oC
See More >>
Subscribe to our Newsletter
Get the latest news and updates by signing up to our daily newsletter.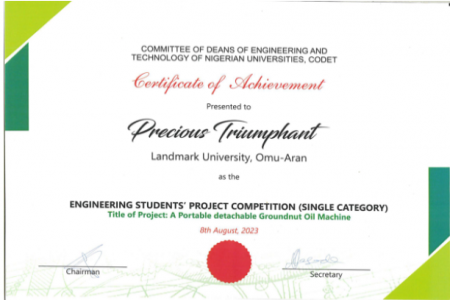 Story of the week
FINAL YEAR STUDENT WINS PRICES AT 2023 CODETS ENGINEERING STUDENTS PROJECT COMPETITION